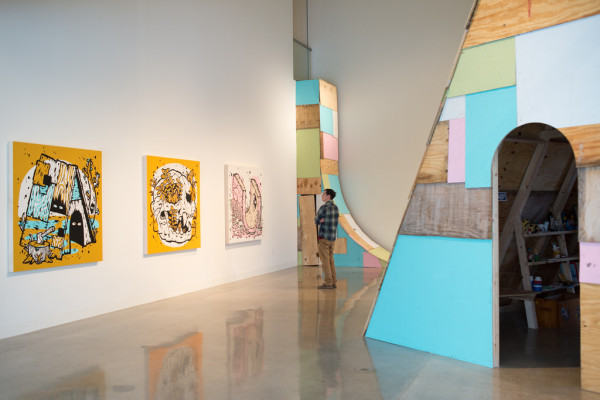 Michael Sieben has spent most of his adult life recalling what it's like to be twelve-year-old child. As managing editor of the skateboard publication Thrasher Magazine, he tries to look at his surroundings with a youthful excitement, leaving his jaded thoughts at the door. That nostalgia for adolescence is on display in It Will All Happen Again, at the UT Austin's Visual Arts Center.
Sieben is an Austin-based commercial skateboard illustrator and designer who has worked with giant brands, including Adidas, Volcom clothing and Vans. His "boys clubhouse" aesthetic is recognizable for being fun and irreverent, often incorporating pumpkin-headed monsters with long arms juxtaposed with humorous, apolitical text, but this exhibit is more introspective, referring to his life growing us as an avid skateboarder in Seguin, Texas in the '80s.
Alluding to a line in Peter Pan, It Will All Happen Again is about discovery and loss of innocence in a colorful setting at the brink of childhood, when adolescents begin exploring a bigger, adventurous subculture through videos, zines, magazines and other ephemera entering from outside the protective confines of what's familiar and ordinary.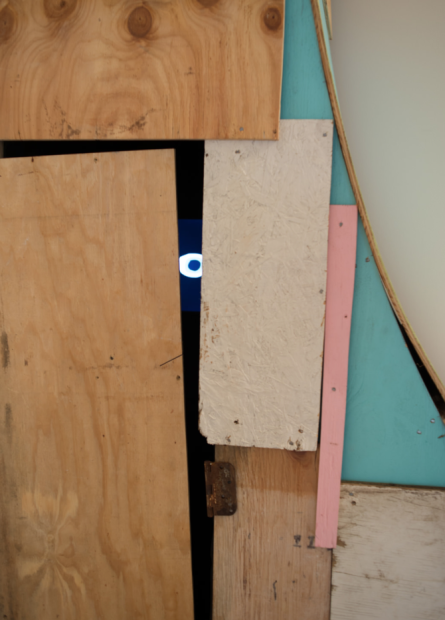 The concept of the show stems from the artist's childhood fantasy of living under a wooden ramp his father built for him in 1986. Sieben's trademark monsters have been replaced with The Dwellers, represented as mysterious eyes peeking out from dark corners. One pair of eyes flickers from behind the door to a tiny room inside a tall plywood skateboard ramp. "As a kid, you see The Dwellers everywhere," Sieben says, "When you grow up, you stop seeing them." Having stripped characters from his work, Sieben's exhibit pushes viewers to decide who The Dwellers are, and to rediscover the curiosity of youth.
It Will All Happen Again encompasses seven large acrylic paintings, a tall skateboard ramp installation, a clubhouse, a makeshift campfire pit, a short animated video and—being no stranger to brand identity—a streamer with pennants with The Dwellers' logo. Each piece is peppered with mischief while adhering to an infantile palette of pale yellow, light blue and pink, from the soft-hued collection of books and toys in the clubhouse to the pastel-painted rocks around the fire pit.
The paintings, on square wooden decks, emulate silkscreened skateboards. Sieben and his painting assistant Denton Watts purposely applied mis-registered lines over flat blocks of color to replicate a printed look. Each frame depicts imagery children see when investigating the outdoors, from a pair of eyes peeking out from a tree stump in the forest in Stump Dwellers to a tough snake slithering through a wooden plank in Discovery 2. The imagery and execution of the paintings were inspired by Sieben's experience walking into his first skateboard shop in San Antonio as a pre-teen. Looking at rows of screen-printed skateboard decks displayed on the wall, embellished with gruesome images of dragons and skeletons created by highly skilled commercial artists, such as Jim Phillips and Vernon Courtland Johnson, had a profound impact on Sieben.
"As a kid, I thought I definitely wanted to be a children's book illustrator," Sieben says. "But once I walked in that skateboard shop and learned that people got paid to draw these boards, I knew that's what I wanted to do." His decision ultimately led him to UT's College of Fine Arts in the '90s, where he looked to artists of the Mission School in San Francisco for inspiration while honing is skills to become a commercial artist.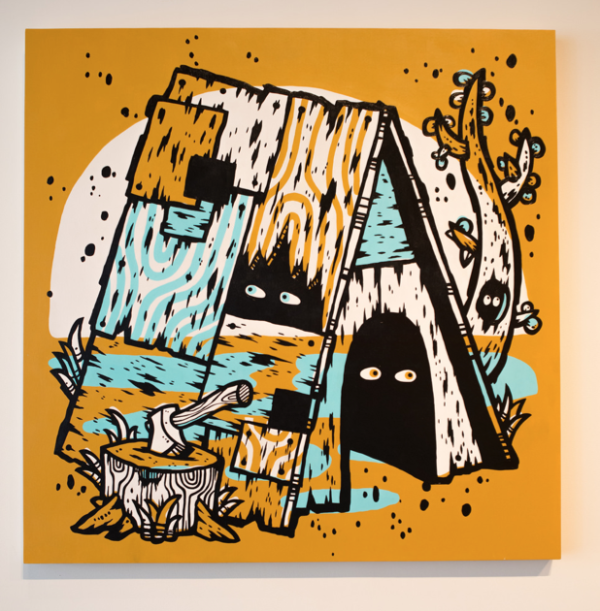 Completing the three-month UT artist residency was a challenge for Sieben, who works full-time and is the father of two young children. To finish It Will All Happen Again under deadline, he tasked his friends to help execute the designs he envisioned.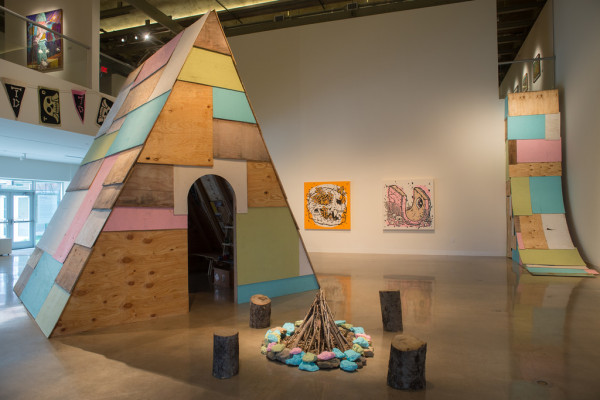 The A-frame clubhouse in the center of the exhibit was built by Sieben's friend Adam Young from reclaimed plywood boards. The space is a hideout where you can escape to have your first beer or read a dirty magazine, Sieben explains. Inside is a bed covered with a t-shirt quilt Sieben's friend Pearly Rihn made from dozens of t-shirts the artist designed over the years. Graffiti, stickers, flyers and posters and a couple of propped up skateboards decorate the inside walls. Charlie Brown's Encyclopedias, Sesame Street figurines and other '80s bric-a-brac from Sieben's personal collection share space on the wooden shelves with a few dried seed pods, a bottle of wine and a can of beer. A t-shirt and a baseball hat hang over a rafter, as if being set out to dry after a day of swimming in the creek.
In the corner of the gallery, a short animation plays on repeat. Sieben wanted to write prose that tied the exhibit together, so he collaborated with his friend Michael David Aho to animate and singer-songwriter Will Oldham to narrate "The Dwellers," which was included in a limited number of zines Sieben produced for the exhibit. The Dwellers is about turning back to your childhood. It encourages viewers to remember that the mysterious things they once saw in trees, sheds and under the bed still exist if they take a moment recognize them.
Sieben credits his penchant for collaboration to working with Okay Mountain, an art gallery and collective he co-founded in 2006 after closing his own gallery space, Camp Fig. Okay Mountain was comprised of Sieben's contemporaries, including the founders of two other Austin spaces, Fresh Up Club and The Artist Studio studios.
In 2008, Okay Mountain was invited to put on a group show at The Creative Research Laboratory. It was Okay Mountain's first exhibit making new work as a collective. The result was It's Gonna Be Everything, a collection of installations, drawing and videos that represented the group's playfulness.
That exhibit "led to all kinds of stuff," Sieben says. A year later, the group created Corner Store, a widely-lauded installation commissioned by Arthouse and exhibited at PULSE Miami 2009. Corner Store was a convenience store filled with products the artists created. Everything from the soundtrack playing in the background to the fixtures and signs was either altered or produced by the artists.
Brian Gibb, director of The Public Trust gallery in Dallas, says Corner Store was the greatest thing he's ever seen. "It was so smart, so funny and people devoured it," Gibb says. "If you could imagine someone starving, and then walked into a store with all of their favorite food—it was that good."
The success of the show eclipsed the Okay Mountaineers careers, exposing them to a broader audience, and Sieben received a lot more freelance work as a result. At the tail end of 2009, Harper Design asked him to illustrate the newest edition of The Wonderful Wizard of Oz —fulfilling one of Sieben's childhood dreams of illustrating a children's book.
Sieben, 39, describes the last decade of his life as a blur. He spent the bulk of his '20s and 30s juggling multiple creative projects. While managing Okay Mountain, he worked as the designer for now defunct Bueno Skateboards from 2006 to 2008, and then co-founded his own company, Roger Skateboards, in 2009. He flew out to art openings around the United States, mailed homemade zines to artists he admired and wrote columns for Juxtapoz and Vice. But when his son was born in 2010, he made a conscious shift to prioritize his time so he could provide for his growing family. Just months before his daughter was born in 2013, he transitioned from being a staff writer to managing editor at Thrasher Magazine.
When UT approached Sieben about the exhibit, he was thrilled about the opportunity. Having a solo exhibit was one of his lifetime goals, and he hopes It Will All Happen Again is accessible enough to inspire young adults to create.
"I want to fill that same role for a kid who is getting into skateboarding, or art in general," Sieben says. "It definitely transcends just skateboarding."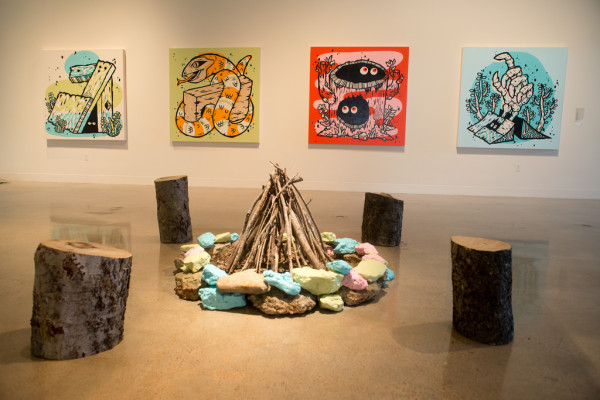 All photos: Sandy Carson, courtesy of the Visual Arts Center in the Department of Art and Art History at UT Austin.