Here it is: our live blog of the Houston Fine Art Fair! We'll be posting images throughout the fair.
(Don't forget about our contest for Best and the Worst art in the Houston Fine Art Fair. Send your images and captions to [email protected] and if we publish your picks, you'll win a VIP pass to the Texas Contemporary Fair next month!! Winners will be posted anonymously next week after the fair closes, so let 'er rip! We'd love to have your picks for "Best Booth" as well.)
Day 3 – Sunday LAST DAY!
Summing it all up, Clint Willour said, "It was a good fair but if they had cut fifteen galleries, it would have been a great fair."
On the down side, that would knock out 95% of the contenders for Glasstire's "Worst Art" contest… -KK
9:32 p.m.
This just in from Haunch of Venison! "We sold Isca Greenfield-Sanders and Leon Ferrari. And we have a Vasconcelos on reserve." Go Haunch! -RK
___________________
1:00 p.m.
Every day I find work I didn't notice the day before. I really liked Gabriel de la Mora's piece at Sicardi Gallery. It's reminiscent of work by 20th century greats of the Latin American avant-garde but the 43-year-old artist is tweaking the past by making his work with post-it flags…see detail….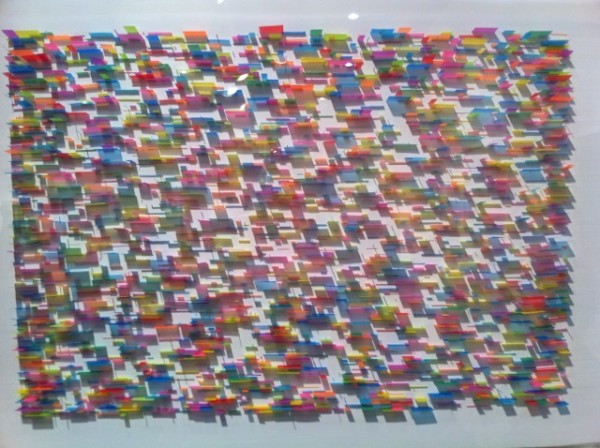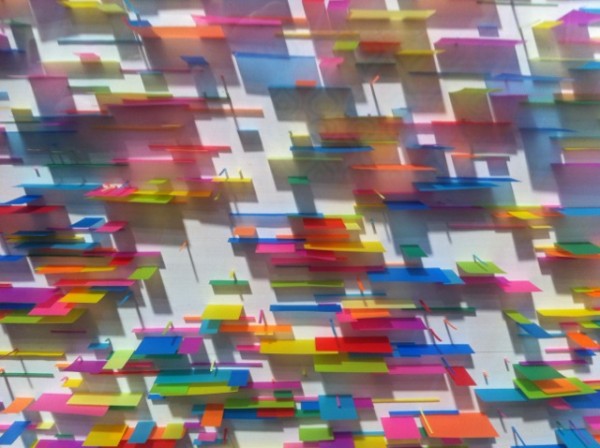 Anya Tish also had an optically cool piece, a painting by Hungarian artist József Bullás. (No it's not another shitty IPhone photo from me. That's the way it looks and it generates some amazing optical effects, you have to see it in person.) -KK
10:17 a.m.
When I spoke to Houston Arts Alliance board president Marshall Lightman yesterday, he said there had been a 1.7 million dollar sale made, a done deal. He would not identify the gallery who made the sale or the work sold but said he talked directly to the dealer and was shown the work. [UPDATE, Lightman said Sunday that he talked to the gallery again and that it was actually two pieces which sold for a total of 1.7 million. He also said he spoke to a collector who had spent a total of 1.4 million on various artworks.]
Frey Norris Contemporary had sold five works as of yesterday afternoon, among them a $105,000 Leonora Carrington piece. Houston collector and arts patron Nancy Allen was enthusiastically showing Menil director Josef Helfenstein an Andrea Dezsö "tunnel book" she bought. Dezsö makes wonderful illuminated cut paper book-sized dioramas and large installations; the artist did a fabulous project at Rice Gallery last summer.
There seem to be some nice professional collaborations emerging. Houston's Moody Gallery is talking to William Shearburn Gallery of St. Louis about showing Sarah Frost's work in Houston and Houston's Gallery Sonja Roesch was talking to C. Grimaldis Gallery of Baltimore about possibly showing some of each other's artists.
Houston galleries Moody, Barbara Davis and Anya Tish all made sales to a California collector couple. Most everyone seemed enthusiastic and positive and the Houston galleries with big ticket items who had yet to make sales seemed pretty sanguine about the whole thing – sales are often made after the fair closes. And there's still today… -KK

Day 2 – Saturday

7:28 p.m.
Sales? Sales! (For some.)
Big turnout from Houston today — lots of people in the aisles. William Shearburn from Saint Louis sold a big Kenneth Nolan striped painting from the 1960s as well as a large Sarah Frost computer key installation (which reportedly must be cut down 6″ to fit the purchasers' dining room), and a smaller framed piece also by Frost. Margaret Thatcher Projects reported "pretty good" sales, as did Bill Goldston from ULAE (see post from yesterday below). Richard Levy from Albuquerque had people coming back to look at the same piece and was philosophical about buyers sitting on the fence. A big surprise winner was Pictura Gallery, a photography space from Bloomington, IN, which seemed thrilled with their sales and impressed with the local knowledge of photography (when asked a leading question about why this might be, they mentioned Fotofest and the MFAH's large photography collection). Haunch of Venison, located up front, started the day a tad grimly with reports of "nothing"  from their starry booth but was pleased to report a nice sale when I stopped back by on my way out.
Of the local galleries, Moody and Anya Tish have done very well, the former selling a handsome five figure Mary McCleary piece, among many other artworks, and the latter selling two monumental sculptures by Adela Andea and William Cannings (twice). From Dallas, Galleri Urbane and Valley House were not reporting strong sales but the latter was extremely pleased with the fair and said they will "definitely" be coming back.
Not all the buyers are from Houston — sales were reported by visitors from Dallas and South Florida.
Most quotable dealer: Marie Chambers from Louis Stern Fine Arts of West Hollywood: "No matter what these dealers tell you, this fair will live or die based on the sales this year, and we won't know until the fat lady sings — and we won't know if she's sung for a few months." She also commented on the fair visitors who "thanked her for coming" and commented on how she had "scored" a closet in her booth ("I paid for it!!").
Great booth: Schroeder Romero & Shredder
The consensus among local art world denizens meeting in the aisles? An overall successful fair. Everyone is impressed by the size. Dealers ranged from tepid to extremely happy.
It is hell to get an Internet connection in the George R. Brown Convention Center.
-R.K.
1:27 p.m.
Houston's Koelsch Gallery and Darke Gallery are doing single-artist shows in their side-by-side booths. Koelsch is showing Kana Harada while Darke is showing the work of Hunting Prize winner Wendy Wagner. They've each got some interesting ceiling-hung works on view.
-KK
9:14 a.m.
So 3,000 people attended the fair's Preview Party Thursday night. Attendance seemed light but steady on the Friday workday, no numbers yet. Today should be a big attendance day. HFAF has projected 10,000 for the whole fair with at least 2,000 from out of town.
Here's a closeup of Hiram Butler's huge sale. The amount is undisclosed but a working proof for Flags II from 1967-70 is in MOMA's collection, and of course a 1960 Johns "Flag" painting sold for $28.6 million last year. (This sale price wouldn't, of course, be anywhere near that but it wasn't cheap.)
Sammer Gallery has some really great work from Latin American artists roughly contemporary to Johns, like the amazing Ana Sacerdote. Check out the Argentine artist's wonderful tempera abstractions on paper and her 16mm film animated film which uses similar imagery. Like the MFAH's "Inverted Utopias" it's another reminder of all the great art made in Latin America that most of us in the U.S. never knew a damn thing about.
-KK
___________________
7:42 p.m.
We haven't yet mentioned Haunch of Venison's booth, the first one you encounter in the fair and one of the bigger out-of-town names to attend. They've prominently featured the work of Portuguese artist and uber-crafter Joana Vasconcelos (perhaps best known for her crocheted piano and her tampon chandelier):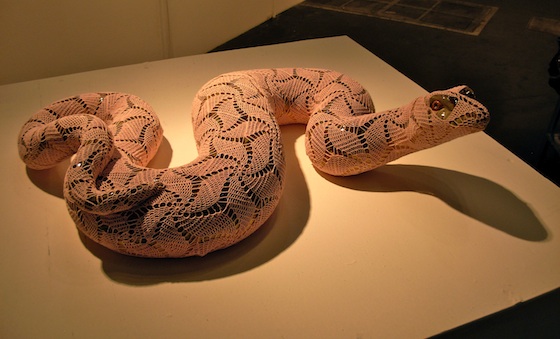 The crocheted, taxidermied animals beg comparison with local favorite Elaine Bradford: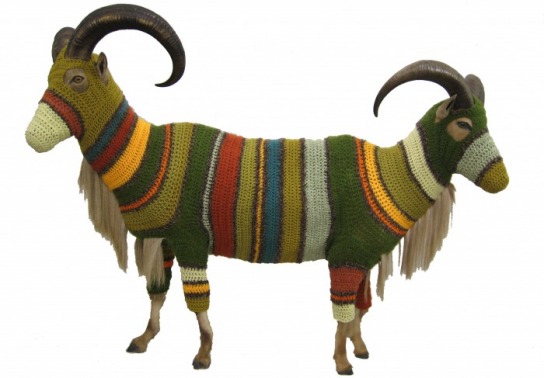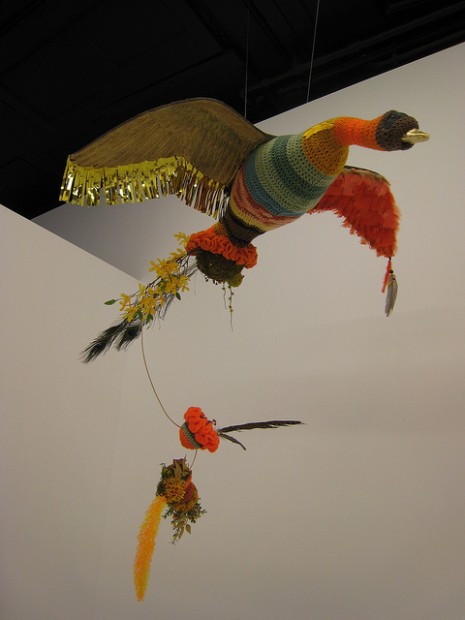 Vasconcelos does pretty straightforward crochet-over-object, and she goes for a more refined and delicate craft element in her work. She also consistently uses just one color of yarn. Bradford's chunky knits evoke church bazaar trivets in their striped retro colors, and she seems far more interested in introducing an element of the fantastical, with double heads, elongated trunks, and fanciful mini environments. Intentionally or not, Haunch of Venison has provided an interesting comparison to a successful local artist.
– RK
___________________
5:57 p.m.
Anthony Shumate's Capitalist Soup performance. Delivered in the style of the "Sham-Wow" guy…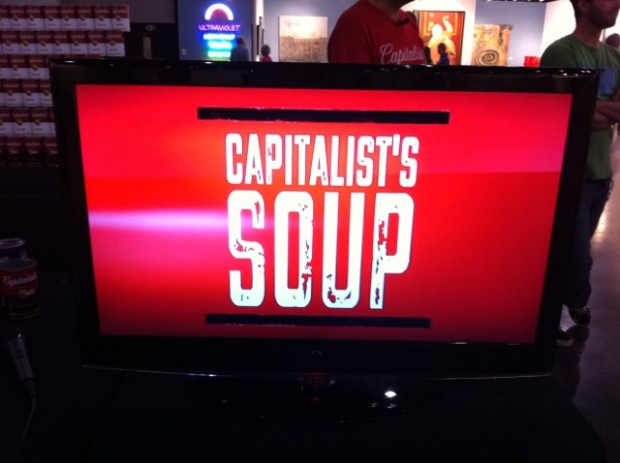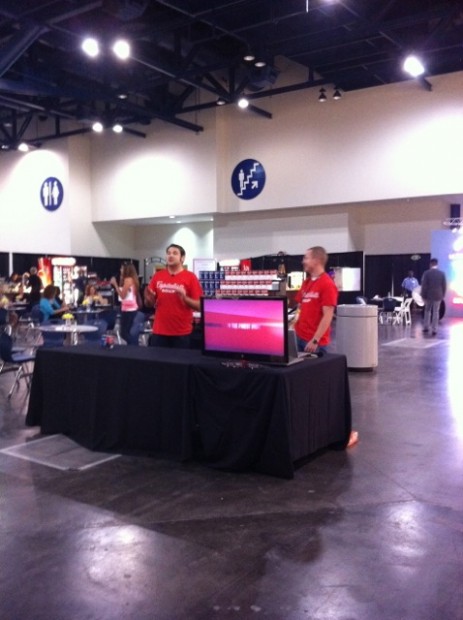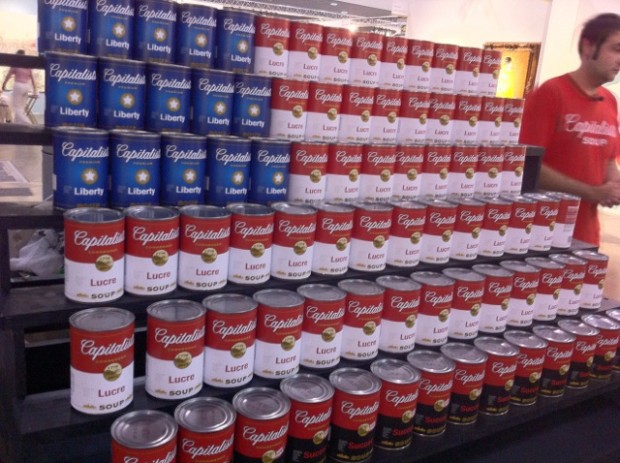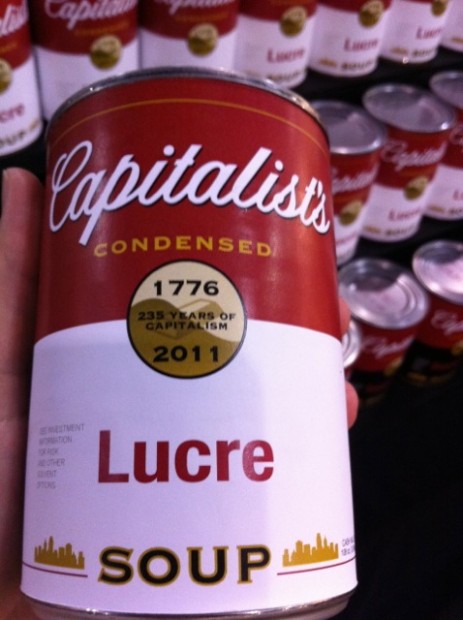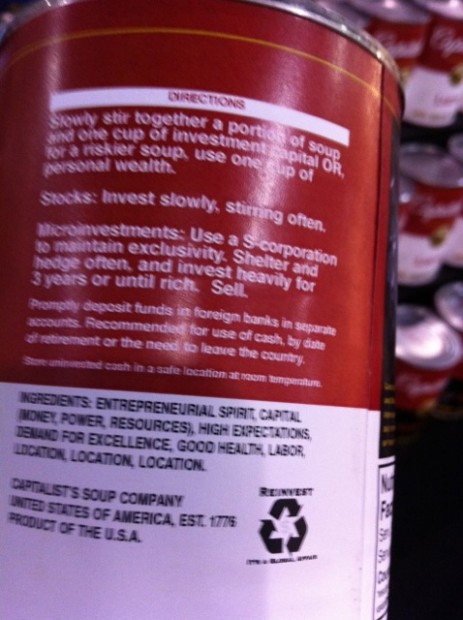 Performances tomorrow (Sat., Sept. 17) at 3:30 and 5:00 p.m. -KK
___________________
4:52 p.m. Sales report: ULAE has sold at least three of a mirrored Rosenquist edition. Texas galleries Moody and Ruiz Healy reported sales. Nibbles elsewhere. Overall mood among galleries seems cautiously upbeat. Winding down a quiet Friday, one collector was seen entering after work. Everyone's hoping for a strong Saturday.  – RK
4:30 p.m. Painting, painting, painting,painting, painting, photo, painting, painting,painting, painting, painting, sculpture, painting, painting, painting, painting, painting, painting, painting, painting, painting, painting, painting, painting, painting! -B.D.
3:23 p.m. There are talks throughout the day today and over the weekend. I'm currently sitting in on the panel "Rising International Importance of Latin American Art." The Latin American focus of many of the participating galleries has been a great aspect of the fair. Overhearing all the Spanish, you could almost pretend  you're at ARCO.
I sat in on Donald Lipski's talk this morning. I'm not a huge fan of his artwork but he had some great quotes about public art, an area in which he has done a lot of work.
"Most public art is shit..it's a long rigorous process that doesn't encourage creativity."
"Every time you do a public art project, it's like starting a business."
– KK
___________________
12 noon: most overheard comment, "It's better than I expected!"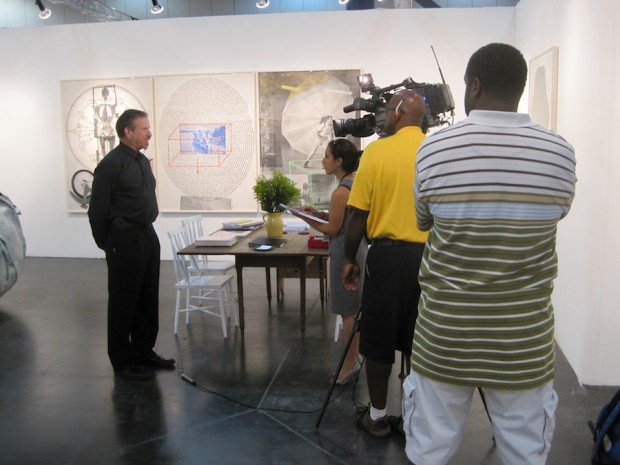 11 am: the gates open! Marshall Lightman on camera.
10:30 am: Press preview. I'm the first one there. How embarassing.-B.D.