Glasstire counts down the top five art events in Texas.
For last week's picks, please go here.
1. Catherine Colangelo: star guardians
Koelsch Gallery (Houston)
May 18 – June 17, 2023
"In her first-ever exhibition with koelsch gallery, Catherine Colangelo will be showcasing an assortment of gouache and graphite paintings in her debut, Star Guardians. With her multi-hued patterned compositions, she continues to explore the intricate relationship between mother and child and the deepening desire to protect a loved one."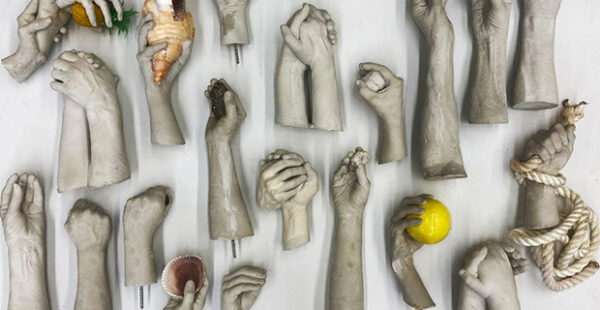 2. Las Hermanas Iglesias
Blanton Museum of Art (Austin)
December 17, 2022 – July 9, 2023
From the Blanton Museum of Art:
"The Blanton Museum of Art at The University of Texas at Austin presents Las Hermanas Iglesias, the eleventh Contemporary Project in the museum's series showcasing innovative work by contemporary artists. Based on opposite U.S. coasts, sisters Lisa and Janelle Iglesias collaborate artistically under the name Las Hermanas Iglesias, in addition to their individual practices.
Their Contemporary Project will debut related textiles, collages, and sculpture that explore caregiving as part of a complex network of social issues. Like many of Las Hermanas Iglesias' previous projects, the exhibition melds cultural references, including to the Dominican Republic and Norway, their parents' home countries, with personal experiences, most recently their navigations of fertility, pregnancy, loss, and birth. Both sisters gave birth during the COVID-19 pandemic, which reframed caregiving as essential work and brought parenting-related concerns, including access to childcare, family leave, and reproductive healthcare, to the surface."
3. Emily Furr: Extra Strength
12.26 (Dallas)
April 19 – June 3, 2023
From 12.26:
"12.26 is delighted to present Extra Strength, a solo exhibition of new paintings and works on paper by Brooklyn-based artist Emily Furr. Delving into her enduring interest in machine imagery as a vehicle for articulating the human condition, Furr's incisive paintings radiate a sensuous, intangible potency. The forms and the empty spaces that surround them metamorphose into anthropomorphic representations of the body and mind.
Inspired by Francis Picabia's machine paintings, Furr depicts both "female" and "male" machines as allegories for the body and mind. Each artwork is adorned with the artist's most emblematic symbols: Machinery, rockets, celestial bodies and organic shapes."
4. Courtney Wynn Sheets: Altered/States
MBS Gallery (San Antonio)
March 3 – June 2, 2023
From MBS Gallery:
"Altered/States is an integration of three distinct yet connected bodies of work created during the pandemic years. Although contrasting in personality, each includes the altering and reconfiguration of images or texts that bridge points in time to merge the past and present — generating possible, alternative futures.
These works reach toward the re-imagining of history and time. They offer the viewer fresh contexts for seeing an image, icon or language in order to flip familiar narratives and the general accepted order of physical and social realities. The hope is that these pieces trigger our minds to unexplored or forgotten territory through the reversing, re-imagining and rearranging of these familiar images and patterns."
5. Where Do We Go From Here?
Contemporary Arts Museum Houston
February 17 – July 2, 2023
From Contemporary Arts Museum Houston:
"Contemporary Arts Museum Houston's (CAMH) Teen Council is excited to present their 13th biennial exhibition, Where Do We Go From Here? The exhibition will be on view  in CAMH's lower-level Nina and Michael Zilkha Gallery.
Featuring work by 25 teen artists, Where Do We Go From Here? looks at moments of transformation and metamorphosis within each participating artist's work. The exhibition's title was posed as a question to over 100 young artists from across Houston through an open call. The resulting artworks—ranging from painted collage to abstract sculpture—disrupt societal norms and boldly confront challenging topics through the lens of change ranging from recent sociopolitical upheaval to personal rebirth."