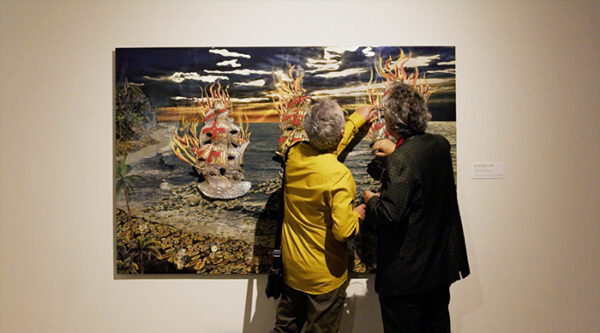 Note: the following is part of Glasstire's series of short videos, Five-Minute Tours, for which commercial galleries, museums, nonprofits and artist-run spaces across the state of Texas send us video walk-throughs of their current exhibitions. Let's get your show in front of an audience.
See other Five-Minute Tours here.
Collidoscope: de la Torre Brothers Retro-Perspective at the Art Museum of South Texas, Corpus Christi. Dates: April 20 – September 30, 2023.
Via AMST:
"This nationally touring exhibition features 40 mixed-media works, including blown-glass sculptures and installation art, plus some of the artist duo's latest lenticulars with imagery that changes as the viewer moves from side to side. It was organized through a partnership between The Cheech Marin Center for Chicano Art & Culture of Riverside Art Museum (The Cheech) and the Smithsonian's National Museum of the American Latino. After closing in Corpus Christi, on September 30, 2023, the exhibition will travel to El Paso, Texas; Tulsa, Oklahoma; Corning, New York; Sacramento, California; and Charlotte, North Carolina.
Born in Guadalajara, Jalisco, México, and now living both in San Diego and Baja California, brothers and collaborating artists Einar and Jamex de la Torre have navigated life on both sides of the border since they were young and have inherited their own unique vision of the Latinx experience and American culture. Their work is visually complex and infused with humorous elements exploring art, history, and material culture. Working with glass, resin, lenticular prints and found objects, the brothers create work inspired by Mexican folk art, popular culture, religious imagery, consumer culture, and mythology. Many elements of the exhibition, including the title and curatorial framework, try to echo the creative process of the artists, serving as an allegory of their intellectual pursuits, their technical use of materials and media, and their use of wordplay and poetic riddles."
NATIONAL TOUR SCHEDULE
Collidoscope: de la Torre Brothers Retro-Perspective
Art Museum of South Texas — Corpus Christi, Texas
Thursday, April 20 – Saturday, September 30, 2023
Stanlee & Gerald Rubin Center for the Visual Arts, The University of El Paso – El Paso, Texas
Friday, October 20, 2023 – Sunday, January 7, 2024
Philbrook Museum of Art — Tulsa, Oklahoma
Saturday, February 3, 2024 – Sunday, April 28, 2024
Corning Museum of Glass — Corning, New York
Saturday, May 18, 2024 – Sunday, January 5, 2025
Crocker Art Museum — Sacramento, California
Friday, February 7 – Sunday, May 4, 2025
The Mint Museum — Charlotte, North Carolina
Saturday, June 7 – Sunday, September 21, 2025