Joe De La Cruz's Under Pressure and Ashley Thomas' Labor of Love at Presa House
Presa House, one of the most reliably interesting house galleries in San Antonio (alongside the evergreen Sala Diaz) presents a lush, two-person drawing show that cannily contrasts the two artists' work as a kind of symbiotic yin and yang. De La Cruz's works in Under Pressure explore a variety of masculine counterculture — punk t-shirts and patches; the bonged-out combo of a poncho and a wooden cross. De La Cruz's draftsmanship is elegant and nuanced, and his drawings position the items as if floating in space, untethered from their histories and associations. De La Cruz imbues the pieces with a both humor and beauty, recognizing the essential absurdity of posturing, but also the necessity of presenting oneself with the symbols available.
Ashley Thomas' gorgeous, ethereal Labor of Love provides a sublime counterpoint to De La Cruz. Her drawings of heart-shaped pillows, shells, bottles of holy water, and erotically parting curtains cast a spell of haunted and funereal femininity. It's as if the labor required by love takes a mortal toll and leaves ghostly remnants. The works in both shows are concerned with the power of objects, but De La Cruz's have an earthy presence, and Thomas' have the levity of symbols — things floating in the Jungian idea of the Night Sea Journey. Together they form a dissonant harmony that sustains and releases, ebbs and flows,  like the billowing curtains Thomas sewed and placed over the gallery's windows and AC units.
At Presa House, San Antonio, through October 26th, 2018
***
Jimmy James Canales' Receiving Interrupt at Sala Diaz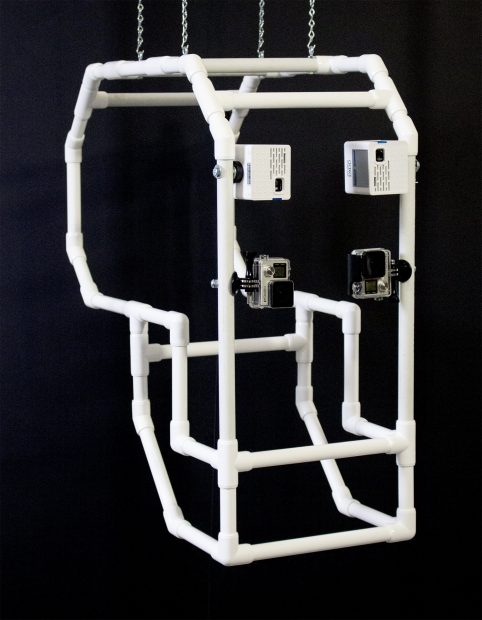 Jimmy Canales, one of the funniest and most humane artists in Texas, effortlessly glides across cultural heritage, death, vanity, and a sense of self in his playful, surprising installations. His newest solo show at Sala Diaz in San Antonio is simultaneously dazzling, absurd, and melancholic. In one room viewers can mount a PVC-like exoskeleton onto themselves — it's equipped with GoPro cameras, and the exoskeleton is connected to a pulley with a heavy bucket on the other end. The bucket rises and lowers over a crude, hilariously grotesque skeleton whose lower half is also PVC pipe. And you get to be in this picture. In another room, a red, spikey foam globe lowers over a listening-pod seat, where you can sit in  solo dark privacy and plug in a cel phone to play whatever special tune you choose. The fulcrum between the two installations highlights the contrast between the absurdity of the mortal body, of personal perception, ultimate death, and an individual's dream of the beyond — the afterlife, the eternal, the journey of the soul. Canales' work reminds me of the films of Hal Ashby, in that they are deeply empathetic yet wry in their understanding that the arcs of "life" should perhaps be taken a little less seriously.
At Sala Diaz, San Antonio, through November 24, 2018