A few days ago, artnet News published an opinion piece about the detention of photographer and educator Shahidul Alam in Bangladesh. artnet's Ben Davis wrote, "I'm convinced, however, that if more people understood just how unique and vital a role he plays on the world stage, that outrage would be far greater still."
Just hours after going on Al Jazeera and expressing criticism of the government's handling of student protests in the country, Alam was grabbed by the government and he claims to have been tortured while in detention. Amnesty International estimates that more than 100 people have been targeted in a crackdown over the last weeks alone.
Statements have been pouring in from artists, photographers, social rights activists, and others. The many protest statements quoted by artnews include those by Anne Wilkes Tucker, curator emerita, Museum of Fine Arts, Houston. Tucker's statement ends with, "It's his voice and influence that the country wants to silence because it is a voice of empowerment." Also included was a statement by Wendy Watriss, artistic director, Houton's FotoFest International: "He is an innovative thinker, a consummate professional, and a widely honored spokesperson for his country, Bangladesh. His arrest and treatment in recent days at the hands of the Bangladeshi government has deeply negative reverberations across the world."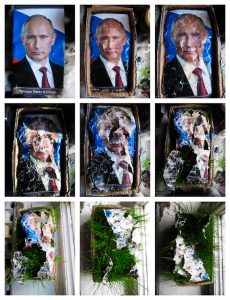 Just a few days before that, Russia started its own censorship shenanigans, reports Hyperallergic. Activists are now protesting the recent order by Russian authorities to destroy a digital print by the art collective. "9 Stages in the Decomposition of the Leader" (2015), a print of nine time-lapse images showing an official portrait of the president over a seed box (a work that shows the disintegration of a photo of President Vladimir Putin, has been seized by the government during a protest (as were protesters, released a few hours later, without artwork).
About the same time, Glasstire reported on the not-as-violent-but-still-censorship of the Creative Time project Pledges of Allegiance. A recent flag of the project was installed at the University of Kansas, but was protested by politicians. Governor Jeff Colyer and other Republican candidates running for election in November had complained that it was unpatriotic. Secretary of State Kris Kobach added that: "The fact that they call it art does not make it any less of a desecration of our flag. I call upon the university to take down that flag right away."
They did.
For the full article on the Bangladesh story, go here. For the full story on the Russian censorship, go here. For the Glasstire piece on the Pledges of Allegiance outrage, go here.