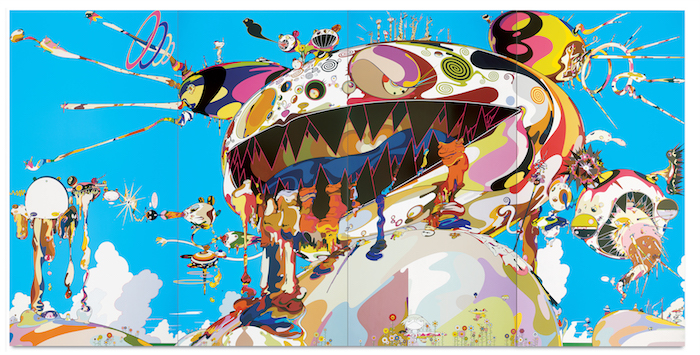 On my first visit to Chicago last summer, I had a few hours to kill and visited the Museum of Contemporary Art, Chicago for Takashi Murakami's exhibition The Octopus Eats Its Own Leg, curated by the MCA's Michael Darling. I knew that Darling would be working with curator Andrea Karnes to bring Octopus to the Modern Art Museum of Fort Worth in about a year, and it was nice to get a preview.
The exhibition title is a translation of the Japanese phrase "Tako ga jibun no ashi wo kurau" and refers to an octopus' tendency to self-cannibalize its tentacles during times of stress, knowing that it grows a new one and survives. This notion has parallels both in Japan's post World War II history, and in the artist's own work. Octopus works well with the Modern's scale and transforms the exhibition from its MCA iteration.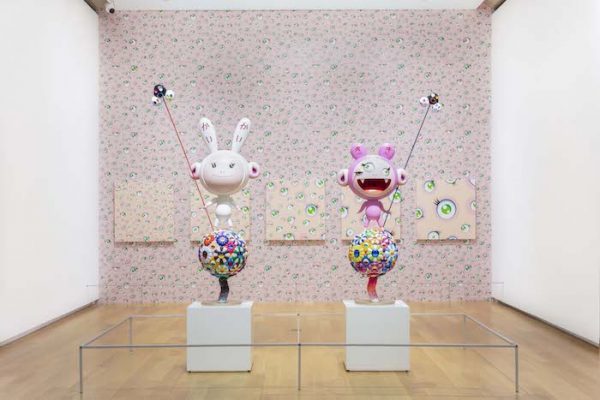 One could be forgiven for having skepticism about this show due to its popularity and promised spectacle. On opening day there was a 45-minute wait, and more than hundred people in line. So it's easy to have some reservations. The show is an unabashed selfie-ready feast.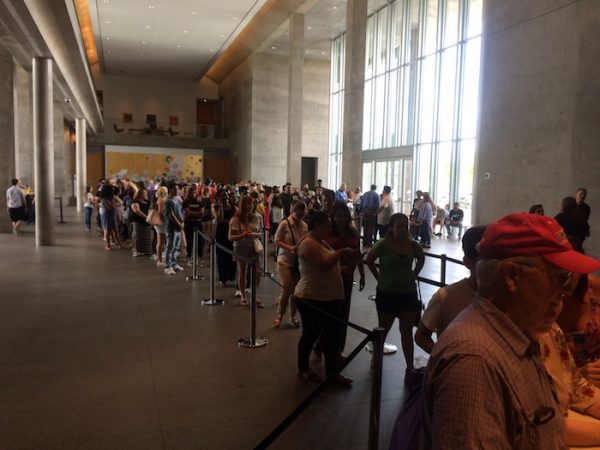 The attendance levels speak to the artist's longtime Pop-Art popularity. Murakami's Instagram account, now up to 664k +1, is a testament to how the artist embraces technology and change to his advantage. Technology — in digital drawing files and prints, or in collaboration with designers and fabricators — tends to find its way into Murakami's work.
The exhibition offers a glimpse into that process by way of a video shot in Murakami's studio. It shows dozens of metal screens and boxes of ink, and in another frame, the large foam sculpture Chakras Open and I Drown Under the Waterfall of Life, is being assembled by assistants. Chakras opens the Modern show at the top of the stairs leading to the first gallery of the museum's second floor, and the piece showcases a major theme in Murakami's later work, referencing the 2011 tsunami near Fukushima, Japan and harkening back to the Nihonga style of Japanese art that Murakami received his PhD in. In the video, Murakami is shown at his computer creating the drawings that are the stencils for his large panels. His assistants cut and apply stencils, mix inks, and physically apply each color onto canvas. The resulting colors in the paintings like, 100 Arhats, from 2013, are made up of up to a dozen or more individually screen-printed hues. But revealing how the sausage is made, in this case, doesn't diminish the appeal of the show.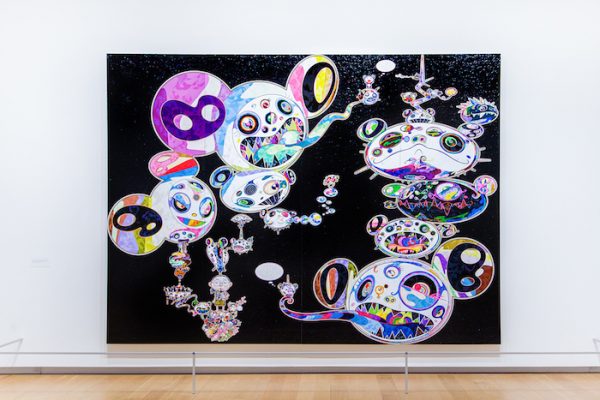 The entrance to Octopus begins with massive fabric sheets printed with rainbow-colored octopus tentacles that hang floor-to-ceiling on the walls of the second floor leading to the galleries. And unless you're directed to it, you could miss Superflat Flowers, from 2010, the carbon fiber and steel bouquet of a sculpture tucked away in the Benjamin and Genevieve Tiller pavilion, facing the Modern's reflecting pool. 'Superflat' is part of Murakami's theories on art, described by Darling as space where "distinctions between high and low, new and old, original and derivative are flattened into a superficial gloss that covers contemporary society." This theory is demonstrated in the breadth of Octopus, which weaves its way between nods to Murakami's western influences, sneaker culture, Nihonga, sculptures, and paintings.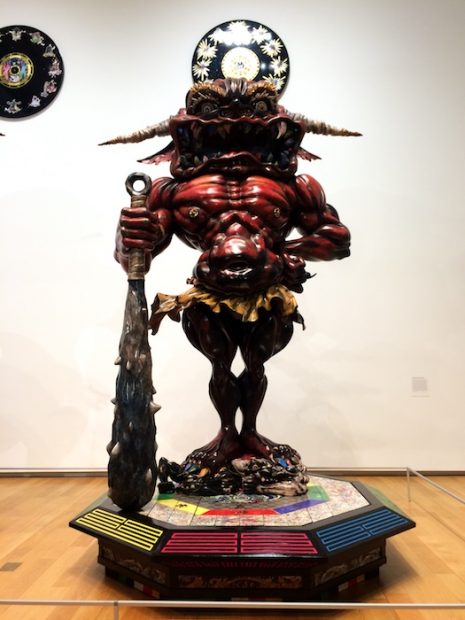 Before the exhibition delves into the artist's better-known works, there are early paintings and sculptures from Murakami's university years. "I don't like this room," Murakami quipped during a press tour led by Darling and the artist. Murakami's early quest for direction looked to works beginning with Pop art and moving backward toward Impressionism. He admits had no confidence in the paintings he was making at the time. He even apologized for his Anselm Kieferesqe Nuclear Power Picture, from 1988, allowing himself a moment of self-deprecation and embarrassment for showing that particular painting in the same space as the Modern's Kiefer paintings. See, Murakami is just likes us. He hates his early works and wouldn't have chosen them to be part of this retrospective. Murakami's candor about his early years was endearing, and is one of the main reasons why I learned to stop worrying and love the work.
"This room is full of bad memories," was another candid reflection from the artist as we entered the next gallery on the tour. Colors 1 (1989), one of Murakami's early but pivotal paintings in Octopus, contains what Darling describes as "a combination of Japanese Nihonga with western bombast." This, Darling goes on to say, "is the tabula rasa from which Murakami's later style begins." The painting's lapis lazuli and glass mineral pigments cost about $37,000 worth of bad memories, and 150 attempts by the artist before getting to the finished painting.
In describing his process for one of the other paintings in the room, 727 Red, Murakami talked about how poor he was at the time, and used the synthetic polymer paint sparingly to conserve material. The sanding visible in 727 came out of frustration with how his assistants were painting the background, and he repeatedly went back and sanded over what they were doing. Upon reflection, he began to see how the process and aesthetic related to ideas in his work.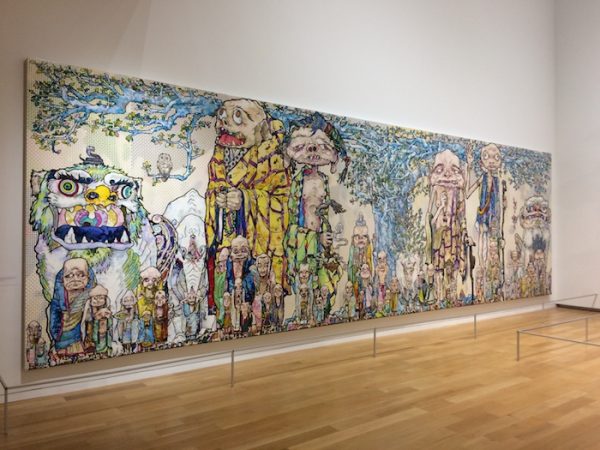 Some of the paintings and sculptures that I hoped would make it to Fort Worth from the MCA Chicago did. 69 Arhats Beneath the Bodhi Tree was one of them. The acrylic and gold leaf multi-panel painting is in two large sections, each 33 feet long, with 10 panels in all and separated into sections for the Modern's show. 69 Arhats is peopled with gargantuan and dwarfed figures (Arhats) ranging from the grotesque to the benign. Murakami revealed that these 500-odd figures, haunting and inescapable, reflect on his own struggle with mortality.
My initial reaction to Octopus at the Modern was about Murakami's similarity to KAWS, whose Modern exhibition came through Fort Worth a couple of years ago. Murakami collaborated with KAWS on Kawsbob Enters the Strange Forest for his auction benefiting earthquake tsunami relief in Japan in 2011. But that connection to KAWS is mostly superficial, and coming to a more thorough understanding of Murakami's work now, it's also resoundingly apparent that his work comes from a completely different place. And while it functions in modes that fold back into capitalism, mass-production, media, and pop culture, Murakami uses these modes to reveal the complexities of a middle-aged artist coming to terms with his own mortality, the legacy of war, and the burdens of navigating the world as an artist straddling multiple cultures.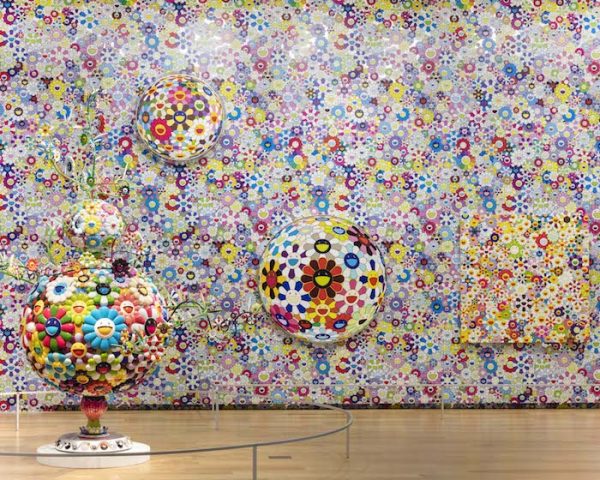 Regarding this interwoven connection to companies and initiatives like ComplexCon, where Murakami was the artistic director in 2016-17, he views his creative license as coming from MTV culture and how musicians use video, short films, and fashion in conjunction with their musical craft, and he also mentions the role of science fiction throughout visual culture and his connection to that. Also, he says: "Cuteness culture is part of what I do. I have no strategy. My life goes with the flow." Superflat meets supercute.
Over the past week I've attended the exhibition's press preview and Murakami's conversation with Darling; the "party with Murakami" event; visited the museum on opening day; and watched the Modern's screening of Murakami's movie Jellyfish Eyes. These insights into the work from the artist's and curator's perspectives are helpful in fully appreciating the works throughout the show, but Murakami's paintings and sculptures dissolve all the chatter and wall texts that surround them to become moments of pure immersion in color, bouquets of Pop, and, occasionally, the grotesque.
'Takashi Murakami: The Octopus Eats Its Own Leg' is on view at the Modern Art Museum of Fort Worth  through September 16, 2018.