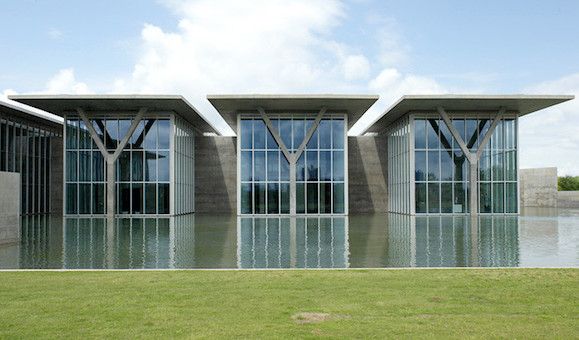 The Modern Art Museum of Fort Worth has announced the guests for the spring season of its longtime acclaimed lecture series, Tuesday Evenings at the Modern, which kicks off on February 9th and runs through April 10, 2018. One of the best lecture series in the state, the weekly program curated by the Modern's Terri Thornton brings local, regional, national, and international artists, architects, historians, and critics to the museum to speak about their practice. Each lecture is free and open to the public, with tickets available at 5 p.m. the day of, and advance tickets available for $5 from 10 a.m. to 4 p.m. the day of. Additionally, all lectures are recorded and posted in podcast form on The Modern's website.
Speakers for the Spring 2018 lineup is as follows, via the Modern:
February 6: 

Michael Auping
, the Modern Art Museum of Fort Worth's Chief Curator from 1993 to 2017, shares insights gained over 40 years of interacting with some of the most important artists of our time in his presentation "40 Years: Talking and Thinking about Art."
Book signing at 

5 pm

 and reception to follow.

February 13: Charles Clarke, Ron Mueck's long-time studio assistant, is in conversation with the legendary galleristand art collector Anthony d'Offay about the work and career of the artist Ron Mueck as related to the Modern's exhibition New Works by Ron Mueck.

February 20: Carroll Dunham, the renowned artist and writer represented in the Modern's collection with the painting Horse and Rider (My X), 2013-15,and Studies for Horse and Rider (My X), 2012-15, presents ideas and works as they pertain to his artistic practice.

February 27: Artists Jeff Shore and Jon Fisher, from Houston, present their work of the last 20 years, discussing their various interests and inspirations and sharing their experiences as collaborators.

March 6: Artist William Cordova is in conversation with 2017 Marfa Contemporary Guest Director Kate Green and Deputy Director for Curatorial Affairs and Curator of Prints and Drawings at the Blanton Museum of Art Carter Foster concerning Cordova's installation ankaylli: spatial and ideological terrain at Marfa Contemporary in their presentation "William Cordova: Frameworks."

March 20: Michael Lobel, art historian and Professor of Art History at Hunter College, City University of New York, presents a new discovery concerning the Modern's popular painting Mr. Bellamy, 1961,in his presentation "Pop and Its Sources: Reconsidering Roy Lichtenstein's Mr. Bellamy."

March 27: Kamrooz Aram, whose work is featured in the Modern's exhibition FOCUS: Kamrooz Aram, presents his work, which is known for addressing issues of ornament and its complex relationship to modernist painting, exhibition design, and more.

April 3: Courtney J. Martin,Dia Art Foundation Deputy Director and Chief Curator, as well as the curator of Dia's 2015 exhibition Robert Ryman,presents "Encounters with Space, Depth and Distance: Robert Ryman, circa 20thC." 

April 10: Katherine Bradford,whose work was featured in the Modern's exhibition FOCUS: Katherine Bradford, presents thoughts on her practice and the ideas and methods behind her brightly colored, exuberantly executed, and ominous paintings.
For more on this and details on the speakers and schedule,
please go here
.