You've probably seen one. Stopped at an intersection, it's hard to miss a large, cheerfully painted metal box on the corner. For some reason, decorating these electrical boxes, which are generally about the size of a small refrigerator, has become a global trend in the last decade. City governments on every continent seem to love hiring artists for this. They cite vaguely uplifting, reasonable-sounding arguments like "it's a low-cost, high visual impact project" and "it beautifies neighborhoods" and "it helps instill civic pride."
In Houston, the underlying idea for our local box-painting effort is that it "converts blight into art by painting the blank canvases around the city." What's not to love?
Well for starters, when have you ever looked at a blank electrical box on the street and thought, "Gee, I wish someone with moderate artistic skills would paint a toucan on that?" For that matter, when have you ever thought about a blank electrical box at all? Consider how, undecorated, these things disappear into the urban landscape. They aren't "blight" — certainly not in the way that litter or abandoned buildings are. Electrical boxes are something you probably never noticed, until your local municipality started decorating them.
I think this bizarre trend has less to do with beautification than it does with cities wanting to take control of street art, to make it sanctioned, palatable, institutional, and toothless.
But it also speaks to our ingrained prejudice towards the urban landscape as being "unnatural." We admire mountain vistas that appear untouched by humans, but our highways, skyscrapers, and even landfills are every bit as natural as a beaver dam or an anthill. Sure, what we create is oftentimes harmful to ourselves and to the environment. But our cities are natural — because we are nature.
But we don't see it that way, and so we feel the need to embellish things unnecessarily. In any landscape, your eye naturally edits out the unimportant stuff. I argue that we should allow certain structures in our cities to remain invisible. People aren't necessarily asking for decoration in their lives, and one man's beautification is another man's visual imposition. None of the arguments for painting electrical boxes answers the basic question: Does our attention need to be drawn to these things? It's like the Cow Parade: it seems fun until you realize it's really not. Today, no self-respecting city would put public funds towards plopping a bunch of decorated fiberglass cows around town. And I predict that the fad for spiffing up electrical boxes will seem similarly cheesy in the near future.
Of course, there are doubtless those who don't agree with me. I got into trouble on Instagram recently for criticizing a similar effort involving a particularly ugly stretch of highway in Houston.
As a growing city, we have many sparkling new — or newly refurbished — highways, so this filthy, charmless bit of road is something of an anomaly. The bridges spanning it are edged with chain-link fencing, which by design is virtually transparent and empty. But somebody in Houston thought it would be a good idea to insert colorful plastic strips into that void. (Apparently the project, which originally involved images by local schoolchildren, was botched by TXDot, which insisted on a bland abstract design.) What this muddled, too-many-cooks-in-the-kitchen effort ended up with is essentially lipstick on a pig. Before, you didn't notice how dirty the pig was, because you weren't being asked to look at it.
If public art is going to dominate the visual landscape, it's got to be so great that most people enjoy the experience of it. And it's also got to make sense. If not, you're just foisting stuff on people. To me, these decorated freeway overpasses are just as incongruous as a Jeff Koons would be in the middle of Yellowstone Park.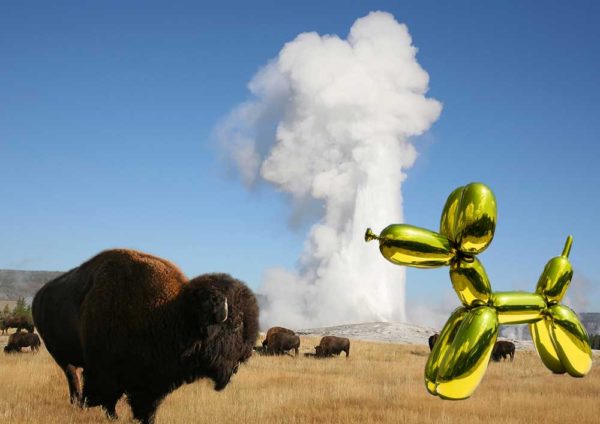 Of course, ultimately the worst of all this is not the effect on the viewers or the urban landscape. It's the effect on the artists themselves.
No artist ever woke up one morning and spontaneously said, "I sure wish I could decorate an electrical box!" or "I sure feel like decorating a pre-cast cow sculpture!" But if any eager young artist has attended a seminar on having a career, they know they have to look for paid opportunities to do something that at least sort of resembles making art. They are happy at the prospect of getting paid something — rates vary wildly from city to city, but in Houston it's $750 — and so they gamely send in their proposal for how they would decorate an electrical box, even though that is probably the last thing they would choose to do if they had their druthers.
Good artists make their best work when they're given as much freedom as possible to design their project. Just imagine if every city in America stopped asking artists to decorate electrical boxes, or parking meters, or garbage trucks, or freeway overpasses, and instead started sending out this public art brief: 
Hello. We want art. We want the best art we can possibly get. We've got some money to pay for it. 
We will accept any proposal. Any length of time, any budget: permanent to impermanent. From a marble statue, to a performance crawling up a sidewalk. 
BUT KEEP IN MIND we do not have unlimited resources, and we do not have unlimited staff. What we DO have is unlimited openness to your ideas for making our city awesome. Look around and tell us what you think. Shock us. Surprise Us. Challenge Us. Hit us with your best shot. 
We accept $1,000 proposals; we accept $1,000,000 (or more) proposals. We may or may not accept any proposal we receive this year if none of them are right. It depends, mostly on the concept but also on feasibility.
Let's amaze and delight people.  
Let's change the way we see the world.
Good luck.