As Glasstire reported yesterday, Dallas' Southern Methodist University (SMU) has received a three-year grant totaling $300,000 from the Andrew W. Mellon Foundation to support the Ignite/Arts Dallas initiative at the Meadows School of the Arts. According to the SMU press release, the grant will support two key programs and a variety of special projects for Ignite/Arts, which launched in 2015 to "integrate artistic practice and community engagement in ways that would involve Meadows School students, the wider SMU campus, the city of Dallas and the arts field at large."
"Community engagement" is the key phrase here. The two key programs mentioned are the Dallas Arts Project (DAP) and the Purposeful Presentation Program (3P). The DAP will support two local arts projects per year – either studio or performance-based – that are designed around social, civic or public practice and are interdisciplinary. P3's goal is to present non-traditional, multidisciplinary performance work exploring the themes of racial and cultural equity, religion, immigration, the environment and other contemporary issues.
This comes at a time when anti-black fliers were recently found around the SMU campus. Entitled "Why White Women Shouldn't Date Black Men," the fliers state reasons such as "[Black men are] more likely to abuse you," "have STDs," and "your kids [with black men] probably wouldn't be smart," reports SMU's The Daily Campus.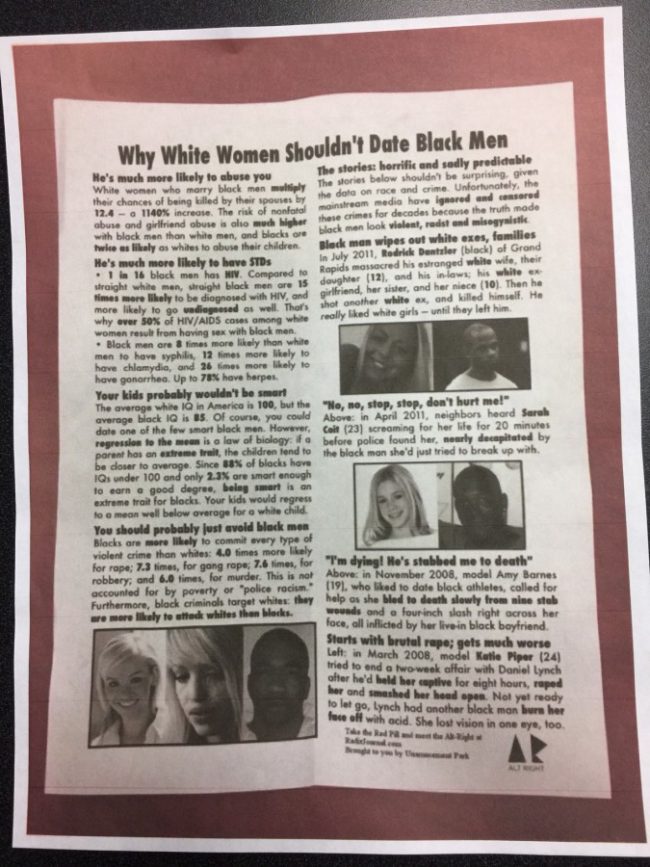 SMU President R. Gerald Turner had a very strong response (below). Let's hope that the artists who will benefit from this grant will also address this sort of garbage.