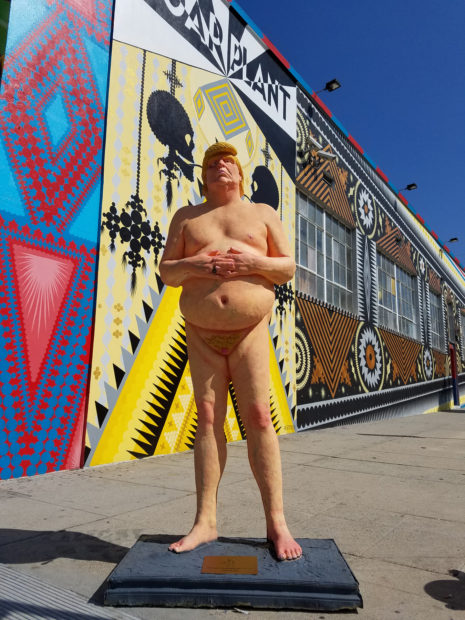 Remember last month when statues of a naked Donald Trump popped up in NYC, Los Angeles, San Francisco, Cleveland and Seattle? Well, one of those statues is going to be included in Julien's Auctions' Street Art Sale on October 22. Via the auction house's website:
Julien's Auctions announces the October 22nd biannual Street Art and Contemporary Art live auction featuring the naked Donald Trump statue entitled "The Emperor Has No Balls" (Estimate: $10,000-20,000) by anonymous art collective INDECLINE which appeared on the 4600 block of Hollywood Boulevard. A portion of the proceeds from the sale will benefit the National Immigration Forum, one of the leading immigrant advocacy organizations in the country, with a mission to advocate for the value of immigrants and immigration to the nation. 
"Naked Trump" is one of a series that recently caused a commotion nationwide recently when appearing unannounced in public spaces in New York, San Francisco, Seattle, Cleveland and Los Angeles. This "Naked Trump" was rescued by La Luz de Jesus Gallery director Matt Kennedy, and is the only remaining example not confiscated or destroyed. The explicit statue quickly became a symbol of political protest art and garnered international coverage when the gallery refused to hide or censor the statue, choosing instead to display it prominently and in public view.
The "Naked Trump" statue was loaned to the Jimmy Kimmel Live! Show, and found its way into the opening monologues of Jimmy Fallon's Tonight Show, Stephen Colbert's Late Show, and hundreds of other news and entertainment outlets. "Naked Trump" will be on public exhibition at the Julien's Auctions Los Angeles gallery from October 17th through October 22nd, ahead of the Presidential election in November 2016.
For more, go here.