Raul Gonzalez, a San Antonio-based artist, continues his 'WERK Harder' attitude as part of the Artists Looking at Art exhibition and performance series at the McNay Art Museum in San Antonio. Raul Gonzalez, Portraits of a Working Artist is a new body of work featured in the museum's Frost Octagon gallery room; it's been coupled with 12 scheduled performances by the artist that take place inside, outside and around the museum property over the course of the exhibition.
Gonzalez is 2014 MFA Studio Art grad from UTSA in San Antonio. He's dedicated to exploring his Latino identity, his urban upbringing, and his role within society, profession, and family. Using a conceptual translation of the definition of language, Gonzalez uses his art to speak various languages. These aren't the cultural and geographical boundaries of typical linguistic designations we often rely on to communicate; he investigates a more theoretical approach to universal language through movement, color, technique, medium, thought, documentation, and gesture—and gives us an artistic dialect unique to him. He voices his emotions via an artist-driven etymological appropriation of the world around him. One the foundations of his language is in dance.
"In my studio while I would be painting, I would hear a song on the radio and would have to stop and dance," he says. "Other times, I would dance in my studio while I waited for paint to dry. Dancing has always been a big part of my life… . I come from a huge family and we would always be dancing, whether it was at larger gatherings or at the house."
"I practice dancing on a daily basis. My dance steps have evolved and the choreography has become more purposeful… the steps are tighter and synched. I see the dancing as more of an extension of painting; feelings I cannot capture in my 2-D work."
Historically, Gonzalez's performances that accompany his installations are what he equates  to a "Flip-o-gram," a social-media rapid succession of images that show progression of his multi-sided identity and approach.
In one of his early performances, titled I Used to Want to be On Soul Train, he enacted a teenage fantasy cardboard environment with self-choreographed cavorts; it was voyeuristic, quasi-rebellious, juvenile, and nostalgic. Later, in a three-minute boxing round of oral assaults, participants sparred each other inches apart, verbally topping one another for streetwise respectability. Howls, Moan, Groans recorded the artist giving guttural, animalistic (and raucous) sounds; a reverse evolution from 21st-century dialect to primordial reverberations. In War Paint (Action Painting Battle) participants dressed in Voltron-esque amateur cosplay outfits. Each attacked their art nemesis with painted canvases standing in for shields and swords and creating a GWAR-meets-house-party mosh pit, a testosterone-driven WWF Battle Royale. This performance was complete with luchadores wielding paint rollers.
For the museum's Artist Looking at Art series, Gonzalez knew he wanted to work on the notion of self-identity. His life had changed a lot recently; out of school he and his wife started a family and he was identifying with a new role of a stay-at-home dad. He took the opportunity to explore this new sense of self. "I wanted to show all the different sides of me," he said.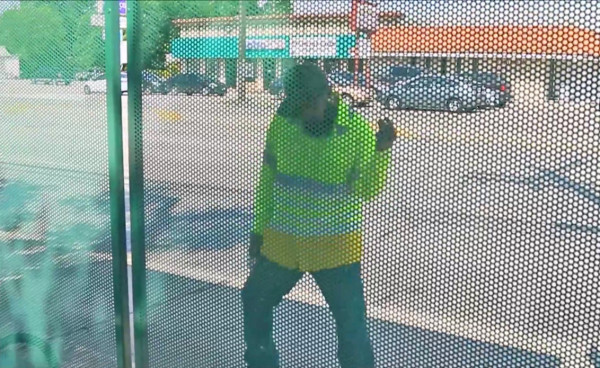 Past performances this June included a 4.6 mile dance trek from the door of Radius Gallery in downtown San Antonio to the McNay Museum on Broadway. This multi-mile dance performance had the artist donning in an embellished construction vest and dancing across a pre-destined route of San Antonio—a stretch of road that geographically encompasses the artist's daily routine.
Several other McNay museum performances in the lobby and museum grounds have included choreographed dance numbers where the artist boogied alongside and around a fabricated construction sign barrier which was painted with lyrics from the amplified house music mix that was pumping into the lobby.  These lyrics were selected for their importance to the artist.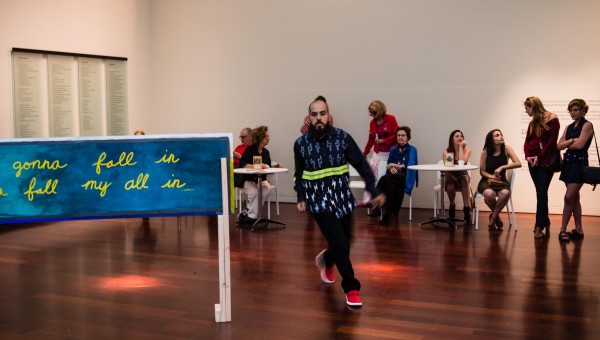 "There are song lyrics I hold dear… sometimes I think they were made for me, speaking directly to me," he says.
Raul Gonzalez's early July performance was derived from an Independence Day-inspired stereotype of American patriarchy. For this work, titled American Beardo, Gonzales painted his beard the colors of the American flag while at the museum and posted continuous social-media selfies while cooking BBQ and other all-American, macho activities (and using a wealth of designated hashtags).
Gonzalez is also slated to give an emotional three-song dance performance and an actual gym-rat work-out session evocative of Venice Beach, Los Angeles; it will happen outdoors in the brutal summer heat.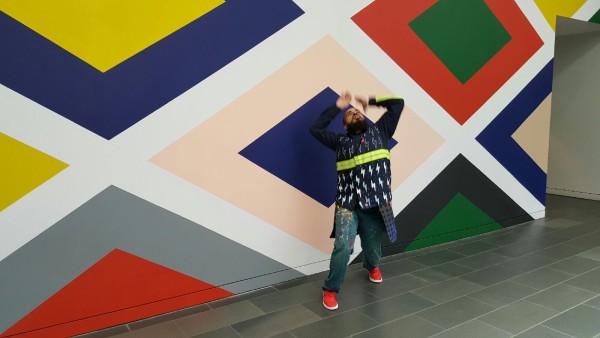 On July 24, Raul Gonzalez has scheduled a McNay Family Day performance where museum patrons and families attending the event can join Gonzalez in a dance party; they can shimmy inside and outdoors at the museum, and even dance into the parking lot to a makeshift dance floor installed by the artist.
The final performance, scheduled for July 31, will revolve around the song (and notion) of option4's Do Work. "Part of this track will include a spoken-word mix where the song's DJ is talking about life lessons… about option 4," he says. "In life we always have choice A, B, or C, or plan one, two, or three. In the song he talks about always taking 'option 4.' I felt he was talking directly to me. I am a working artist, I push myself to create. I also go above and beyond… I WERK… I am doing more than just work!"
Raul Gonzalez through July 31 at the McNay Art Museum, San Antonio
(Images courtesy the author and Gary Wise for the McNay)