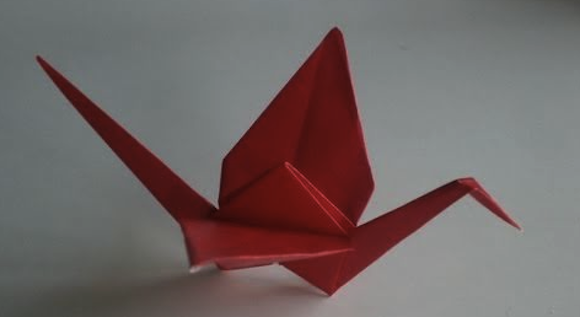 It's Memorial Day Weekend! The three-day holiday weekend filled with barbeque, beer, and boating accidents is actually a federal holiday in the United States for remembering the people who died while serving in the country's armed forces.
Last year, President Obama spent Memorial Day at Arlington National Cemetery for a wreath-laying ceremony honoring those men and women. Today, while on an Asian tour, Obama laid a wreath at the Hiroshima Peace Memorial in Japan. Obama, the first sitting American president to make the trip, met survivors of the 1945 nuclear attack (but did not apologize). Although Sadako Sasaki did not meet with President Obama (she died in 1955), she is still considered a symbol of the innocent victims of nuclear warfare.
Sadako was two years old at the time of the explosion but, in 1955, she was diagnosed with acute malign leukemia from radiation exposure. Her hospital roommate told Sadako about the Japanese legend which promises that anyone who folds one thousand origami cranes will be granted a wish, and taught her how to fold the origami cranes.
In 1958, a statue was erected in Sadako's honor. At the foot of the statue is a plaque that reads: "This is our cry. This is our prayer. Peace on Earth." Every year on the holiday in Japan to remember the departed spirits of one's ancestors, thousands of people leave paper cranes near the statue.
To learn how to fold origami cranes, go here.