In honor of Memorial Day, here's a round-up of some of my favorite war monuments, all politics and other contest-ables aside, and in no particular order.
Consecrated in January of 9 BC, the Ara Pacis celebrates the peace established in the Empire after Augustus's victories at Gaul and Hispania. It's an embellished, yet architecturally humble little edifice that lauds and recalls victory on a quiet, human scale.
Rachel Whiteread may have had the Ara Pacis in mind when she designed her Holocaust Memorial in Judenplatz, Austria,which is a cast of an interior room-sized library as formally typical in many Austrian homes.  "The absent volumes leave their imprint, solemnly suggesting both the personal stories of around 66,000 Austrian Jews (traditionally identified as 'People of the Book') who perished during the Holocaust and the general devastation of World War II." ( from here)
The memorial is a structure whose merits have been hotly debated due to its utter simplicity of form — certainly an artistic vision of memorializing that is out of step with traditionally understood modes of monument, i.e. something more obvious and sentimental.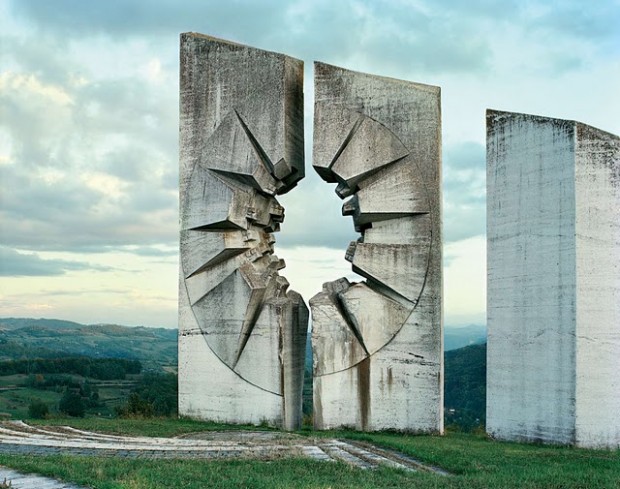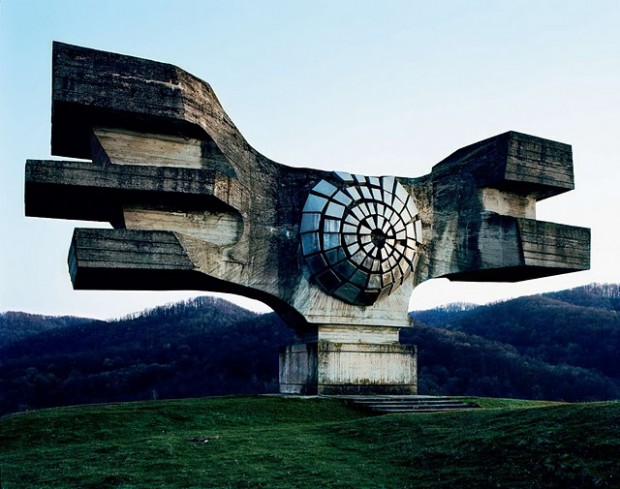 These structures have really rooted themselves in my imaginiation since I stumbled across them recently — so sculpturally compelling, so visually unified to their particular politics, and just so good.
 These structures were commissioned by former Yugoslavian president Josip Broz Tito in the 1960s and 70s to commemorate sites where WWII battles took place (like Tjentište, Kozara and Kadinjača), or where concentration camps stood (like Jasenovac and Niš). They were designed by different sculptors (Dušan Džamonja, Vojin Bakić, Miodrag Živković, Jordan and Iskra Grabul, to name a few) and architects (Bogdan Bogdanović, Gradimir Medaković…), conveying powerful visual impact to show the confidence and strength of the Socialist Republic. In the 1980s, these monuments attracted millions of visitors per year, especially young pioneers for their "patriotic education." After the Republic dissolved in early 1990s, they were completely abandoned, and their symbolic meanings were forever lost. (from here)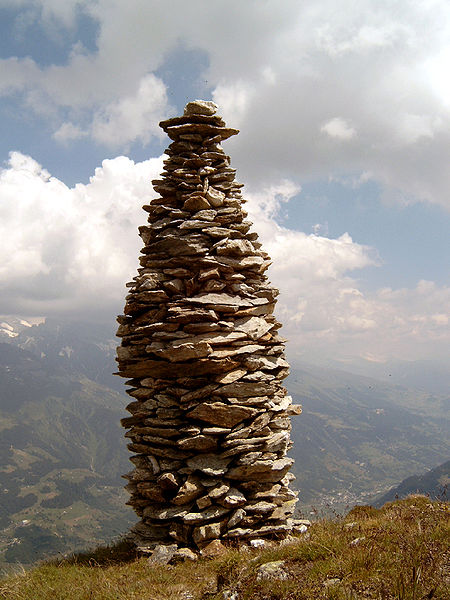 People have been memorializing battles and death and conquering for eons with simple, beautiful cairns — piles of stones that mark an important place — and I don't think the seemingly primordial urge to memorialize sacred ground could find a more humble and poetic interation than a cairn. It's the structure that was the genesis for every other monument worth the thing  it remembers.