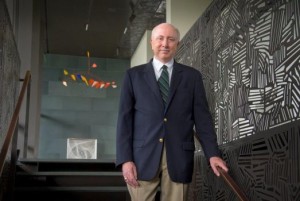 William J. Chiego, Director of San Antonio's McNay Art Museum, has informed the museum's board of trustees of his intention to step down from the directorship of the McNay on September 30, 2016.
The McNay board will need that time to figure out how to organize a search for its new director, a task with which it has little experience. By the time Chiego retires, he will have served more than 25 years as director, only the second leader of the museum in its 62-year history.
"The timing of this announcement is to ensure that a succession-planning process will be deliberate and seamless until the best qualified candidate is secured and a smooth transition follows," stated Board President Sarah Harte in a press release. The McNay has appointed a transition committee, which will direct the international search for a successor.
During Chiego's tenure at the McNay, the collection more than doubled from 9,000 to over 20,000 works of art and the museum's footprint nearly tripled. Chiego spearheaded a $51 million capital campaign that culminated with the 2008 opening of the Jane and Arthur Stieren Center for Exhibitions.
Chiego Iooks forward to a continued association with the McNay and having more time to spend with his wife and family.
(Photo: Courtesy McNay Art Museum)