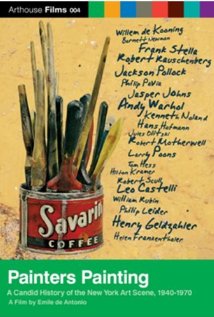 According to the weather reports, Houston should be dried out by Wednesday evening, so it will be a great time for an outdoor screening (but bring the bug spray!). In conjunction with the Menil Collection's Barnett Newman exhibition, the Menil, the Rothko Chapel, and the Aurora Picture Show are presenting Emile de Antonio's 1972 documentary Painters Painting at the Rothko Chapel Plaza, June 3rd at 8pm.
If you went to grad school for painting, you've probably already seen it, likely in an altered state and giggling; it's an art school rite of passage. The film is the definitive documentary on the New York School Painters from 1940-1970—that means it includes the biggies: de Kooning, Johns, Warhol, Rauschenberg, Frankenthaler, Stella, Newman, and more.
There was a brief period during which artists thought they had moved beyond the serious grandiosity and pretentiousness displayed in this film (for example, the "dumb art" movement, which is still prevalent). But there is no getting around the grandiosity, pretentiousness, as well as the grave importance inherent in all the silly endeavors of art.
So go watch it again with a little respect for the parents of contemporary painting.