Houston artists Troy Stanley and Tracey Conwell appeared before City council and Houston Mayor Annise Parker on Tuesday to voice concerns over the Houston Arts Alliance's mishandling of the George R. Brown Commission and the on-again-off-again selection of sculptor Ed Wilson.
Speaking during the public comments section of the December 16 city council meeting, Stanley, a veteran public artist with several commissions in Houston, said he was "here to express my concern about the ability of HAA to mitigate conflicts of interest within its own organization and with regards to civic art commissions." He went on to detail to the council the story of Ed Wilson's selection by a panel, and the subsequent overturning of that decision by HAA's Civic Art Committee, which he called "affluent collectors and art consultants who can have vested financial interests in seeing certain artists win commissions." Asked if and saying that "it is my belief that there is conflict of interest within Houston Arts Alliance."
The remedy, he suggested, was putting artists in the mix. "I understand that some of the members on the board at HAA are mayoral appointees. I just want to ensure that if the process is being restarted again, local artists need to have a voice in the way that is being restructured. The way it is now, artists have no defense. We are not organizations, we don't have community backup, if there's no one on these committees who can back up individual artists whether it's a dancer or visual artist or a sculptor we can't continue to move forward. We're losing faith in HAA."
During the question-and-answer session that followed, Mayor Parker, who already appeared well acquainted with situation, downplayed the debacle, and described the Civic Art Committee as the "final authority" over artist selections, saying, "No one has brought anything forward to me or to the Arts Alliance other than the complaint that they didn't like the fact that that the original recommendation was overturned. Mr. Stanley's suggestion was that instead of art collectors of patrons we put working artists on the committee. That seems to me to invite its own set of conflicts of interest. But no one has brought anything forward to indicate that there was anything untoward. It was simply that the selection committee has the final say and apparently the recommended artist was selected prior to the final sign-off by the selection committee."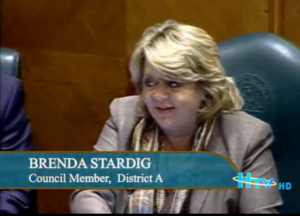 Councilmember Brenda Stardig raised the red flag: "Mayor, I have issue that we aren't asking more questions when I heard 'conflict of interest.' That is a red flag for me, sorry. That's a serious thing to say if you mean it." She pointed out that HAA is charged with spending tax money, and ended by asking the Mayor, "Could you also just highlight the fact that, in the event that he [Stanley] does bring forward evidence of conflict, what would be the process at that point? To which Mayor Parker replied: "Probably exactly what's happening, which is to start the process over again. But I would seek to remove board members. The practical effect was that we started over again anyway. But if any board member was manipulating the process I would remove them as board members. If there was fraud or a criminal act, of course we would forward that [to the city's attorneys]."
Stardig then cautioned Stanley about making unsupported allegations: "I just want to make sure that you understand those are the opportunities you have if you believe that you need to bring forward facts. But I also have the flipside of that: please be cautious when you say that because you're talking about people's reputations, and especially in this world as you were part of, it's very sensitive to your future and to others so I just caution you. Without the facts, I would definitely be careful."
Said Stanley: "I understand that. All I'm asking for is a series of checks and balances where artists are represented as well. Not strictly on the Civic Art Committee but they should have a significant portion of that. That's all I'm asking for."
Later in the session, Tracey Conwell, "attorney, an artist, and an advocate for the arts", spoke, making even more specific allegations aimed at Brad Bucher, the civic Art Committee Chair:
Tracey Conwell: "I appear before you today to talk about the recent controversy regarding the George R. Brown contract. And I would like to go directly to the issue that was brought up by councilmember Stardig regarding the conflict of interest. I believe I can address that and I've come prepared to do so today. As an attorney of course I'm interested in what documents say so I went to the documents. I brought them for you so afterward you can check them if you are interested. I will briefly tell you how it proceeded and you can judge for yourselves if you see the conflict of interest that I see, glaringly.
First of all let's point out that Houston Arts Alliance is a 501(c)(3) Corporation. It is run by the City of Houston and the board is appointed by the City of Houston. It is governed by its bylaws, its articles and it engages in contracts for various activities implementing the public arts programs here. One of those contracts called for was the George R. Brown renovation and the artwork to be situated in that renovation.
There is a director of Civic Art and design, or, should I say, there WAS a director of the Civic Art and Design group and that director resigned over this. And he set out that conflict of interest in the letter of resignation and the email he sent to the mayor regarding the matter. If it is true that you will remove anybody with a conflict of interest from the board, then I suggest there is somebody ripe for removal.
At the meeting on September 18 of the [Civic Art] Committee which was attended by [Conwell refers councilmembers to her notes] . . . for the staff it was Matthew Lennon. He was there; he was the director of the CAD committee at the time. That meeting, at which Brad Bucher attended (and please correct me if I'm wrong about the pronunciation, I don't really know the man, even though I believe he does have a conflict of interest, in his own words.) He was there. He's been appointed by the mayor, and he did say that he thought the GRB proposal, in his words, was "personal for him" because he had promised them an exceptional product. I actually don't know it is his position to do that, but apparently he believed it was personal."
Conwell brought along a stack of documents, including the unofficial minutes of the meetings containing the Bucher's quotes, which she distributed to council members, and continued: "Pursuant to the regular process a contract was actually issued to Ed. But of the two finalists it was narrowed down to, Mr. Bucher has refrained from being involved because he said that he was friends with one of the finalists. He was fine through the process when the first seven were selected. He was fine when it was narrowed to two. But then, when his friend was not selected and Wilson was instead selected, then he stepped in and even know a contract had been issued and sent out to Mr. Wilson pursuant to standard operating procedures he said he wanted to change the process and revoke it because he did not, basically, he did not like that art."
Council member Stardig asked, "Your position is that they may be picking winners?"
To which Conwell replied, "Yes and I don't believe that within their authority. I think it's an ultra vires act by them, to go outside the process and the contracts, and that is why the director resigned and stated so in his resignation."
Reached for comment later, Stanley said, "I'm someone who has civic contracts with HAA, and I've received individual artists grants. I'm in it, and I've been through the process, and I was really upset that the Civic Art Committee can come in and disregard what's happening with the selection panel." Conwell agreed: "You can't let the Mayor's biggest donors pick the art for the city. That's why they set up the process."
Video of the proceedings is available online; Troy Stanley appears in "Public Speakers Part 2", at 7:00 into the video, Tracey Conwell speaks at 73:16.
Glasstire originally  reported the full story of the Ed Wilson/GRB controversy here.
Matthew Lennon's letter of resignation detailing his criticisms of HAA is here.

Clark Flood's satirical takedown of HAA (neé CACHH) from 2006 shows just how long this kind of thing has been going on.