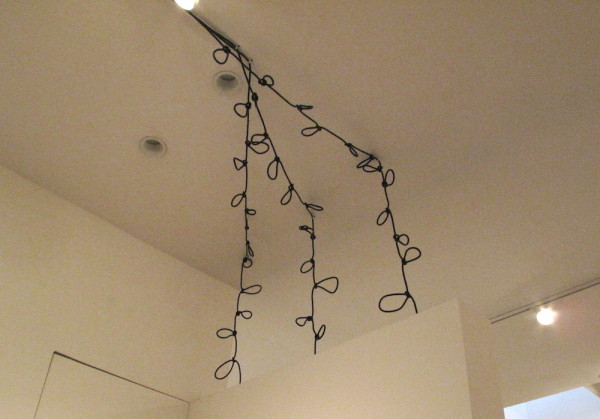 Troy Stanley's concrete-spring at Barbara Davis Gallery in Houston is sparse: eight pieces, not counting the intricately coiled electrical cords near the ceiling, which are not on the gallery's checklist, but are one of the best parts of the show. Stanley's forte is facture, and the cords, which power the three pieces hanging in the front gallery, loop with gratuitous, playful exuberance on the way to the electrical outlets, running free from the earnest, but facile meanings that weigh down Stanley's official works.
It's a materials show, and the materials Stanley chooses are proletarian: concrete, speaker wire, MDF (medium density fiberboard), crocheted cotton thread, new lumber with shiny new nails. The use of everyday materials in inventive ways reminds me of Houston artists Paul Kittelson and Joe Mancuso, who have also both shown at Barbara Davis. Mancuso is more process-oriented than Stanley, more focused on the physicality of poured paint and cast concrete than on imagery, but the parallels are strong: Mancuso's 2012 Barbara Davis show included vaguely floral process pieces, some, like Stanley's, titled Bouquet. Kittelson is more like Duchamp in overalls, using the hardware aesthetic to create homespun Dada.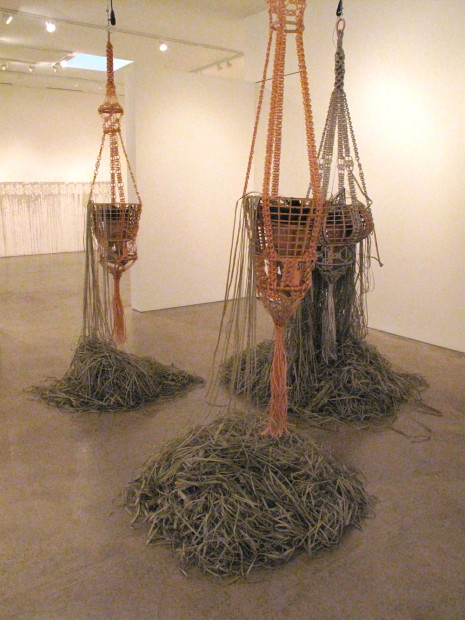 The three centerpieces of the show, titled Perennial 1, 2, and 3 are ersatz potted plants in macramé hanging planters. Every natural element is replaced by a technological substitute: the baskets that hold the plants are skeletal MDF constructions, the macramé is braided speaker wire rather than rustic jute, and the plants themselves are tangles of shredded green paper. Ordinary office shredders hidden inside each basket spew out ribbons of moss-green paper at intervals, in spasmodic parody of growing houseplants.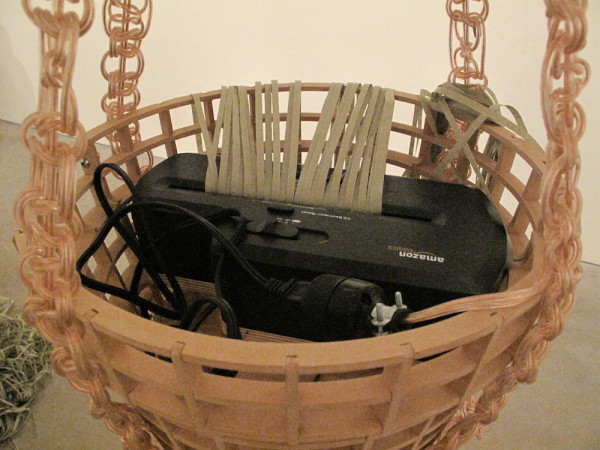 This is Stanley at his best: the Perennial pieces are immaculately made, with an innocent enjoyment of technological improvisation for its own sake. Stanley is a tinkerer; his focus is on intricate, high-craft mechanisms with a nifty, crowd-pleasing appeal. Precisely cut MDF (laser cut, or water-jet cut, I presume) bespeaks access to industrial fabrication tools. His cast concrete blocks are bubble-free. One of his best known works is Zephyr (2006), a waving wheat field of squared sticks, remotely controlled by the wind, originally installed at Lawndale Art Center in Houston, and recently reprised at the 2013 Texas Contemporary Art Fair.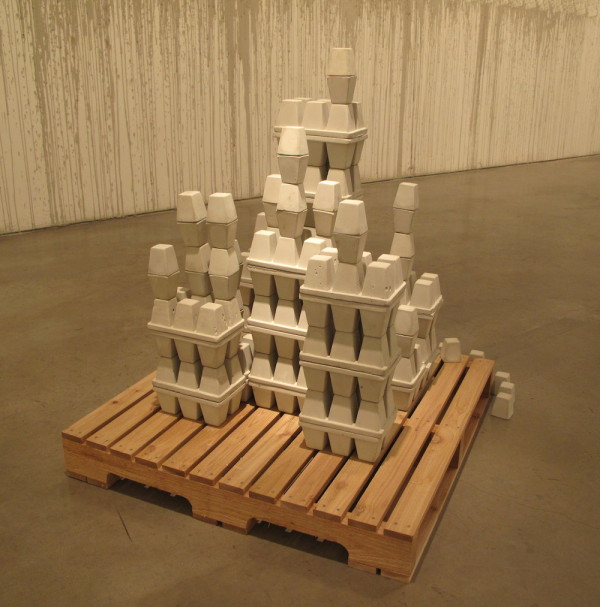 Procession is a stack of truncated pyramids cast from plant propagation flats and arranged in artistic asymmetry to create a miniature city of little blocks on the most beautiful shipping pallet I've ever seen. The sense of spit-and-polish newness Stanley achieves is so impressive that even without exotic, luxurious materials or imagery, it emphasizes the gallery's role as showroom for expensive merchandise.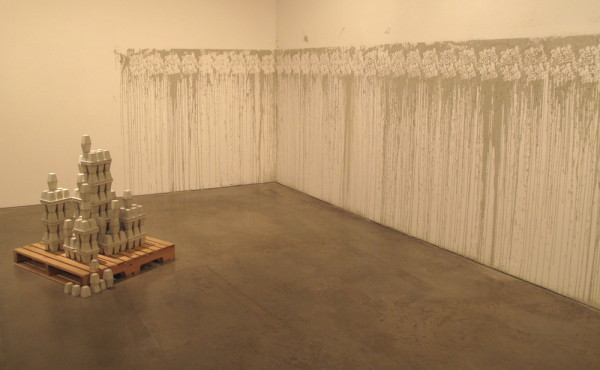 Stanley is great at effects: Bouquet is a spattered line that looks as if it has been stenciled around a bridesmaid's bouquet, the kind that gets tossed at weddings. Soft gray concrete slurry has been sprayed or splashed along thirty-six feet of white galley wall. The sludge adheres to the wall around the flowers, and runs downward, forming a mechanically precise veil of drips, like a curtain of rain.  Not knowing what to do with his new effect, Stanley repeats it on down the wall like a swatch, showing us what he can do, but not why it's necessary.
If you look past the gizmos, there's a perceptible growth theme: sprouting plants, stencils of flowers, tree rings, planters, acorns, but it's as superficial as "what I did on my summer vacation." Stanley has dutifully given himself one of those vague, second-year sculpture class assignments: "concrete-spring" and approaches it like an exhibit designer or a custom furniture builder, satisfied with cute ideas and immaculate craft.
It's no great leap to use cardboard to make tree rings, green paper to create growing moss, or speaker wire to weave baskets, but in each case, Stanley has executed these simple transformations with a sensitivity and care that go a long way towards making them great.
What it's missing is much harder to define: heart or soul, or maybe point of view is really what I'm left looking for. The hanging baskets are funny and interesting. You can admire their craft, but in the end they're an overly elaborate joke for a fairly small payoff: they're not screamingly funny, just very well done. Stanley is so wrapped up in getting his paper shredder trick to work he doesn't stop to ask why.
concrete-spring will be on view at Barbara Davis Gallery through January 31, 2014.