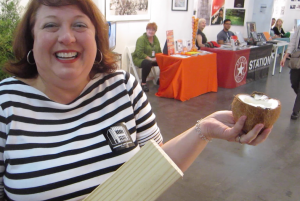 In conjunction with Lawndale Art Center, Glasstire is luring some interesting people to warm the stools at our art fair bar: yesterday we learned how to crack a coconut the island way (using a 2×4), from Lawndale director Christine West; that former Diverseworks director Diane Barber is programming the art scene in Cedar Rapids, Iowa; and debated positivity vs. negativity as art-making strategies with Skydive Founder Sasha Dela. What will we find out today? No panel discussions, no lectures, just some of our favorite Houstonians chatting about topics of their choosing with anyone who drops by.
Saturday's barflies will be:
2:00-2:30: Kim Davenport, director of Rice Gallery and Josh Fisher, Rice Gallery assistant curator.
2:30-3:00: Josh Fisher, curator, Ed Cooper, collector, and Peter Lucas, film/video curator
3:00-3:30: Nancy Douthey, artist, David McGee, artist, Tierney Malone, artist, and Joe Parani, NASA instructor
3:30-4:00: John Nova Lomax Houston Press writer and author of Houston's Best Dive Bars: Drinking and Diving in the Bayou City and Domokos Benczédi, artist and current Lawndale studio resident.
On Sunday, we're expecting visits from:
2:00-2:30: Clint Willour, art guru and Patrick Turk, artist, and current Lawndale Studio Program artist.
2:30-3:00: Patrick Turk, artist and current Lawndale Studio Program artist and Harvey Bott, artist and former hot rod racer.
3:00-3:30: Dennis Nance, Lawndale Art Center exhibitions and programming director and Michael Bise artist and Glasstire contributor.
3:30-4:00: Domokos Benczédi, current Lawndale Studio Program artist and Dennis Nance, Lawndale Art Center exhibitions and programming director