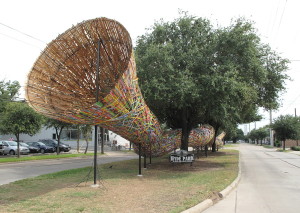 Art League Houston has announced that the City of Houston has authorized an ordinance that will allow Patrick Renner's Funnel Tunnel to remain on the median of Montrose Blvd. through January 2015. Dedicated on August 10, 2013, the piece was originally approved by the city for a three month run, with the option for two three-month extensions.
But the 180-foot long trumpet woven from reclaimed lumber has proved as durable as it is popular. It was recognized as one of the year's best pieces of public art at the 2014 Americans for the Arts conference, and has gathered several other awards, featured in hundreds of articles and uncounted thousands of photographs, prompting the city to keep it longer.
Some of the piece's woven wooden slats need spiffing up, though,  so the Art League is holding a Funnel Tunnel painting party on Saturday July 12 from 10am- 3pm in the back garden of the ALH residency house at 1003 Bomar St., Houston. All the painting supplies will be provided; just bring is yourself, your creativity and some old clothes. Lunch and refreshments will be provided.



This will be the second painting party for the piece; volunteers helped paint it during its original installation last July.