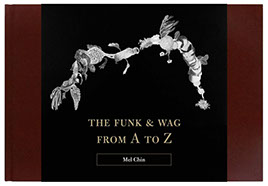 Tomorrow evening at 7 pm, the Menil Collection will host an "Illustrated Lecture & Book Signing" with Houston-born artist Mel Chin, fresh from his retrospective at the New Orleans Museum of Art, which was curated by once-Houstonian Miranda Lash. With Chin will be joined by sometimes-Houstonian Nick Flynn, who teaches creative writing at the University of Houston.
Chin has put together a book called The Funk & Wag From A to Z, for which he made hundreds of collages created from images found in a 25-volume set of Funk & Wagnall's Universal Standard Encyclopedia. (Sebastien Boncy reviewed the images' 2012 "arresting" installation at The Station Museum and called it "one with which I crave further encounters.") Poet/memoirist Flynn served as editor for the twenty-five poems commissioned for the book project. Contributors include some pretty great poets as well as some intriguing choices, such as Barry Schwabsky, Ravi Shankar, and Flynn's wife, actress Lili Taylor. Yale University Press says the oversized book "offers mischievous fun with pointed commentary and hilarity."
Chin will talk; Flynn will read; books will be signed.