In the niche that is Western art, there is an interesting little subgenre (a nichier niche) of Frederic Remington's night paintings. Remington painted over 70 night scenes late in his short career. Some of them, like The Old State-Coach of the Plains, above, fit neatly into the tradition of night painting. Others are weird, with a sickly green cast that sort of evokes the light of a full moon (but also sort of evokes old movies where they filmed night scenes during the day and just darkened the camera with filters). Although they're less well-known than his brightly-colored action paintings of horses and riders, night scenes are more than just an odd tic in Remington's oeuvre. Indeed, the National Gallery of Art mounted an entire show dedicated to the subject back in 2003. And as it turns out, there are many fine examples of Remington's night paintings (which the National Gallery calls his "nocturnes") in Texas collections.
Paintings of night scenes are as old as painting itself, and like a person's thoughts at two in the morning, they tend towards the melodramatic. Something Biblical, or violent, or naughty (or all three) is usually going on in the high-contrast genre.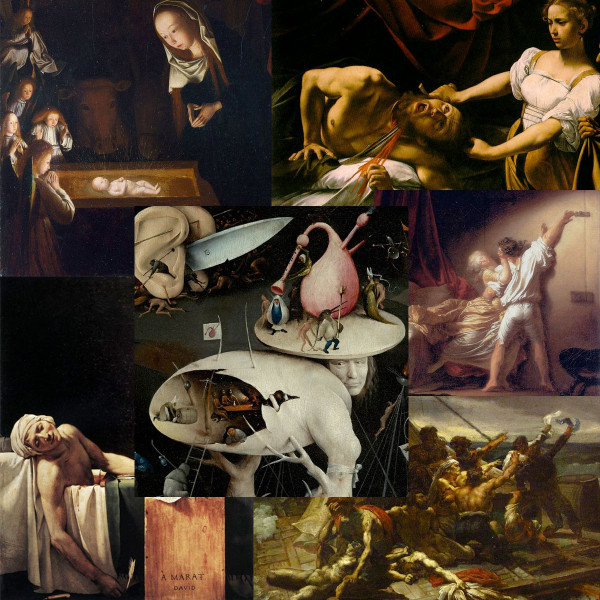 And yet, Remington's night paintings aren't so much bloody or violent as they are vaguely ominous. As a young man, Remington made his living as a skilled pen-and-ink illustrator of cowboy life for East coast publications. It wasn't until 1898, when he enthusiastically (and naïvely) went off to Cuba to be a correspondent in the brief-yet-messy Spanish-American War, that the scales fell from his eyes, he acquired a more nuanced worldview, and he quit being an illustrator and started being an artist.
There are a few things that are interesting about Remington's post-wartime transformation: 1. His subject matter became less straightforward and narrative, and far more ambiguous, sinister, and stripped of unnecessary information; 2. His style lost the hard-edged, cartoonish quality of illustration, and became more painterly; 3. After working with just black, white and gray for many years as an illustrator, he threw himself into mastering the use of color.
Yet the siren call of desaturation must have been hard to resist, because an interesting handful of his night paintings involve the aforementioned limited palette of grays and greens. One of the best of these is at the Museum of Fine Arts, Houston:
As one critic noted at the time they were first exhibited, the figures in Remington's nocturnes are stalked by death: "Death's "shadow" had been the subject of nocturnal images in the past, but Remington's late nocturnes are focused less on the certainty of death, than on the anxiety, the fear that death may appear at any time."
On your travels through Texas museums, take a moment to seek out these strange and wonderful depictions of a fleeting, uneasy world that could be said to embody a darker side of our state identity.