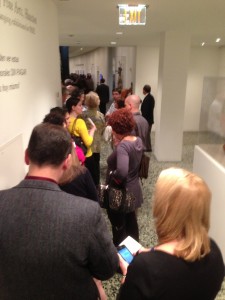 People began lining up at 5:35 outside the MFAH's Brown auditorium theater last night to see the inaugural "Conversations with the Director" featuring art star Jeff Koons, in town for one day, just for this event.
No photography was allowed, but there wasn't much to see- two men in dark suits at a little table, like the set of any of the higher-brow talk shows. Tinterow piloted the slides on a laptop, occasionally loaning his laser pointer to Koons when he needed to draw attention to details of the Picasso works he owns. Two pieces from Koons' personal collection were loaned to the exhibition Picasso: Black and White, which the men were there to discuss.
There are a lot of things I'd like to hear Jeff Koons say about Picasso. Was he a role model? Picasso (when  say Picasso, I mean Greater Picasso, the nexus of societal trends that made him a cultural phenomenon, not just another painter) re-invented what it meant to be an artist in his generation, just as Koons did in the 1980's. How did Picasso the businessman influence Koon's methods?
Tinterow and Koons never got close. Civility is good, but it's not discourse. Tinterow respects Koons and Picasso, Koons respects Picasso and Tinterow, and they both have the highest respect for the standing-room-only audience of of patrons and collectors. At one point Koons, referring to his own purchase of several Picasso pieces, actually said that "collecting is a generous act", because it helps preserve culture. There were no hard questions.
A few interesting comments slipped in. Speaking about the Italian artisans who carved some of his wooden pieces, Koons said "I used the woodworkers as found objects." A fascinating insight into a fundamental Koons-Picasso connection that went no further.
Twice, Tinterow tried to pry some comment from Koons on the shocking crassness of his imagery, but Koons continued talking, in a smooth, animated patter about "going inside himself", about how "I let Picasso come into my life and what came in was freedom- absolute freedom." Koons talked about Picasso as an intuitive artist, whose example encouraged him to put more trust in his instincts, but Koons needs no help- his instincts about what to say, and what to leave unsaid, to best woo the artworld remain razor sharp.