Tink!–Splat–Drone.
British/German electro-acoustic trio Konk Pack wowed audiences with their dynamic performance at Houston's Spring Street Studios Tuesday night. Playing their second set first and their first set last, but not until after the encore, Konk Pack tinkered with our eardrums until they were rebuilt—better—stronger—more complex. Seamlessly oscillating between sensory overload and quietude, Konk Pack challenged the audience to reassess traditional preconceived notions of music, art and performance. Certainly, at times there were toe-tapable beats (courtesy of percussionist Roger Turner), but for the most part the listener was strung along a cacophonic journey that seamlessly transitioned between highs and lows.
Impressively tight-knit, Tim Hodgkinson (lap steel), Thomas Lehn (analogue synthesizer), and Turner maintained a strong sense of direction and control in their performance, and yet the impossibility of predicting their next move was what maintained momentum.
During their second set Konk Pack welcomed local talent Jason Johnson on saxophone and the performance proceeded as a dialogue between old friends and new.
I couldn't tell you how long it lasted—presumably hours, or perhaps we entered the Twilight Zone at some point. This lapsed consciousness shows the engrossing effect of Konk Pack's performance and I must say I thoroughly enjoyed the break.
Konk Pack was presented by Nameless Sound, who brings the best in creative music to Houston, and runs a hefty education progam, working directly with young people in public schools, community centers, and homeless shelters.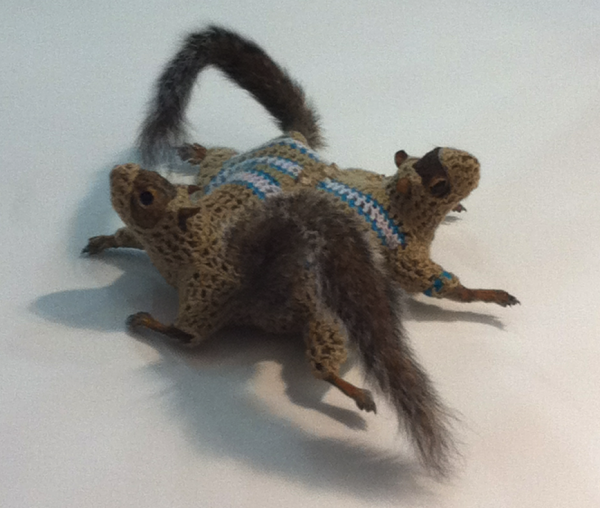 Only two booths were brave enough to bring dead animals to the Texas Contemporary Art Fair this year. The furry tire-trimmed beasties at the Glasstire booth garnered equal parts intrigue and sympathy (art folk are such tenderhearts!)  and, in a winning move, Art Palace took tax-art-dermy to new heights with Elaine Bradford's Yin-Yang Twins (2012)

In Yin-Yang Twins two gray squirrels are aligned back-to-back and encased in a tan and blue crochet bodysuit. Are these Houston squirrels? Perhaps you once caught a glimpse of them in a tree somewhere before were, ahem, repurposed. Squirrel-like, the piece hangs well above the sightline at a nervous off-kilter angle. Neither childish nor humorless, Yin-Yang Twins is a creature that is at once familiar and otherworldly.
Bradford has done many whimsical and somber taxidermy/crochet pieces.  She grew up in a hunting family and learned to crochet from her grandmother and brings these seemingly disparate hobbies together in a way that is  two parts friendly, and most definitely squirrely—Yin-Yang Twins would definitely be a challenge for Glasstire's Bobcat and Coyote to contend with. Poised for action sight in two directions: were this the future of squirrel evolution, no nut would ever reach the ground again!
Art Palace's current show is Barry Stone: Look Near Into the Distance, on display through October 26, and ask anytime for a look at Bradford's work.