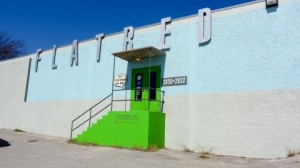 On April 10, Austin's Gallery Shoal Creek will move into new quarters in the Flatbed Building at 2832 E. MLK Blvd. The gallery will keep its name and continue to showcase stable of artists. The new 1700 s.f. space in the northeast corner of the building will feature an elaborate landscaped entrance that will be completed over the summer.
Opened in 1965, the gallery originally focused on Western Art; former owner, Ann Hagood Ledbetter, broadened the scope to include landscape painters, many based in Santa Fe and Taos and broadened the gallery stylistically in 1984 with the addition of New York-based figurative painter Milt Kobayashi. Current Owner/Director Judith Taylor bought the gallery in 1990 and retained Kobayashi and some of her favorite traditional painters as she began to add more contemporary artists to the gallery's roster. In 1999, she began working with the then 26-year-old artist René Alvarado, and in 2009 added abstract painter Shawn Camp.
The inaugural show in the new space will featuring Jennifer Bell, Gregg Kreutz, and Tony Saladino is set to open April 19.