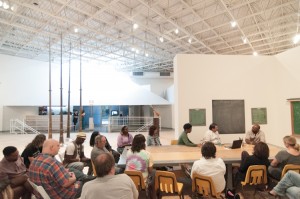 The Contemporary Art Museum Houston is loking for "activists, artists, lay(wo)men, and scholars" to participate in a series of discussions titled "Revenue Sharing," held in conjunction with Theaster Gates' mixed media installation See, Sit, Sup, Sing: Holding Court featured in conjunction with the exhibition Radical Presence: Black Performance in Contemporary Art currently on view. Each Thursday at 12:15, beginning on December 27,  half-hour roudtables present ideas and experiences in a variety of formats. Got one? Send you proposal (1-2 paragraph description of the topic of conversation) to Jamal Cyrus at [email protected]
Meanwhile, the museum's Teen Council is looking for art: issuing a call for submissions for the upcoming exhibition Perspectives 181: Human Nature, which will be on view March 1 – June 9, 2013. The show is open to all teen-aged artists (13-19 years old) currently living in the Houston area*. The 8th youth art exhibition  will explore what it is to be human, (or to be inhuman), and asks artists to consider the questions: Is there a universal human experience? In order to explore human nature, do we examine our base animal instincts? Or is what makes us human of a higher order? Artists are encouraged to freely interpret the exhibition's title and themes through their work in any media. Guest juror Rachel Cook, Assistant Curator at DiverseWorks will do the picking. entry deadline is January 18.
*Eligibility And Entry Procedures (the fine print)
Open to all teen-aged artists (13-19 years old) currently living in the Houston area. All works must be original and made within the last two years. Entries must be submitted via digital image and must be clearly labeled with the artist's contact information (name, address, phone number, email address) and artwork information (title, year, media, and dimensions). Proposals for site-specific installations may also be submitted. Send entries via email to: [email protected] All entries must be received no later than January 18, 2013.