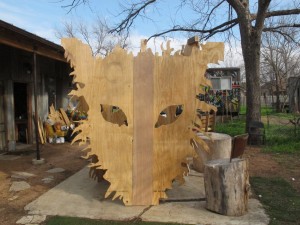 UT's Blanton Museum has commissioned alum Jules Buck Jones to create a temporary outdoor installation in the museum's Faulkner Plaza for the annual Explore UT event, set for March 3, when thousands of young visitors tour the campus.
This is the Blanton's second outdoor commission, it follows the much-loved Knitted Wonderland by Austin resident and international yarn-bomber Magda Sayeg, commissioned for last year's event.
Jones' piece is a series of of larger-than-life, brightly painted plywood masks depicting the faces of a fox, owl, and alligator, each with appropriate noises inside. A fourth work, to be installed inside the museum, will incorporate video projections. The pieces will be on view from March 3-12.