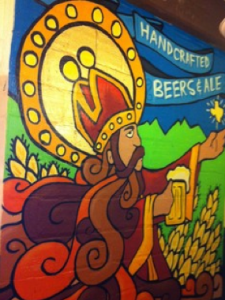 Gonzo247 of Aerosol Warfare has just put the finishing touches on a mural in the second floor of the Saint Arnold Brewery in Houston's Fifth Ward. Gonzo has become the city's top purveyor of urban-art cred, combining the approachability and willingness to work with clients of a mainstream commercial artist and the underground cachet of illicit graffiti. A similarly urban-flavored yet family-friendly mural was unveiled at the end of October at the Houston Public Library's underground parking garage.
The Culturemap story on the new mural said that Saint Arnold Brewing Company tweeted late Tuesday afternoon "Is it possible to get more bad ass than this?" neatly summing up the dislocation. From a street-art standpoint, the answer is a derisive YES! From a corporate-sponsored mural standpoint, the answer is, unfortunately, also yes. "[Saint Arnold Founder Brock Wagner] and I basically took an existing design and urbanized it," Said Gonzo. "I brought in bold colors and sharp outer edges to translate the Saint Arnold logo into graffiti art."
All is not lost- Wagner and Gonzo have plans for another mural  at the brewery, this time designed by Gonzo himself, and likely not featuring any first-century bishops.