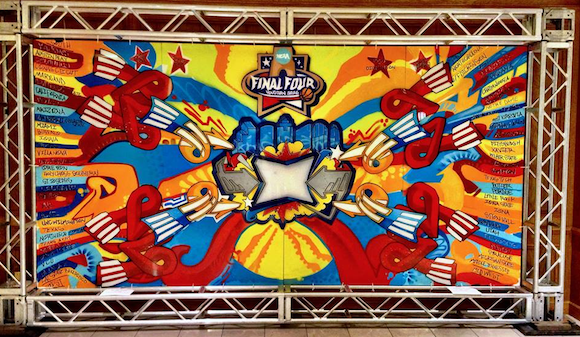 Gonzo247, aka Mario Enrique Figueroa Jr., has been commissioned by the NCAA and Final Four Houston Local Organizing Committee to create a graffiti-styled version of the NCAA bracket, reports Your Houston News. The bracket follows the Men's Division 1 Basketball Tournament, a single-elimination tournament played each spring in the United States, currently featuring 68 college basketball teams, to determine the national championship of the major college basketball teams.
Gonzo, artist and founder of Aerosol Warfare and the Graffiti and Street Art Museum of Texas, does all things Houston and is probably best known for his "Houston is Inspired" mural in downtown.
Gonzo's version of March Madness (which is sometimes referred to as the "Big Dance") will be traveling throughout the city of Houston and can now be found at the Houston Galleria, right outside of the Westin Galleria on the second floor. From there, it will travel to the Houston Zoo and move to the Hyatt Regency Downtown for the Final Four and finally, the championship. The work will change as the teams advance.