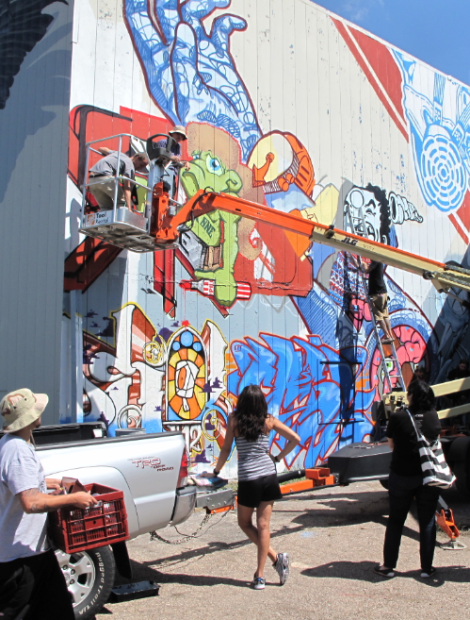 In Southeast Houston yesterday, artists congregated at Kingspoint, alongside the Almeda Mall, for the International Meeting of Styles 2013. Like the Houston Fine Art Fair at the George R. Brown Convention Center, it was a weekend-long showcase of talent in a large metal building, just without the air conditioning.
This is the first time a Meeting of Styles event has been held in Houston, the third US stop in a worldwide tour that began in March in Shenzhen, China and ends up in Buenos Aires around Thanksgiving. It's unclear how many of the artists travel with the tour, or how far, but the Houston event mixed locals with visitors. Regardless of their provenance, nearly every painter was male, aged 25-40.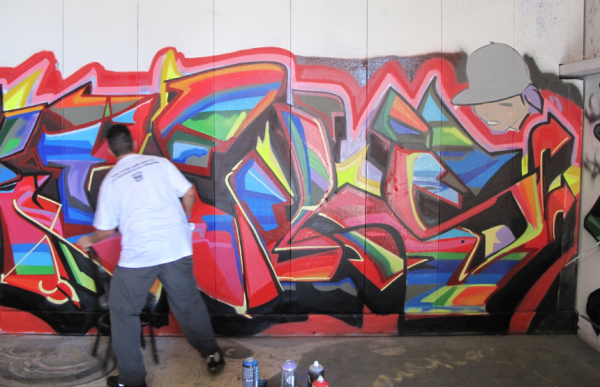 After a long, hard Saturday night, Sunday lunchtime isn't normally the best time to watch graffiti artists at work; but a semi-tropical deluge washed out a lot of progress on Saturday, and many of the artists were hurrying to finish. The sun was out, and a breeze was blowing the paint fumes away. It was a beautiful afternoon to be on a ladder.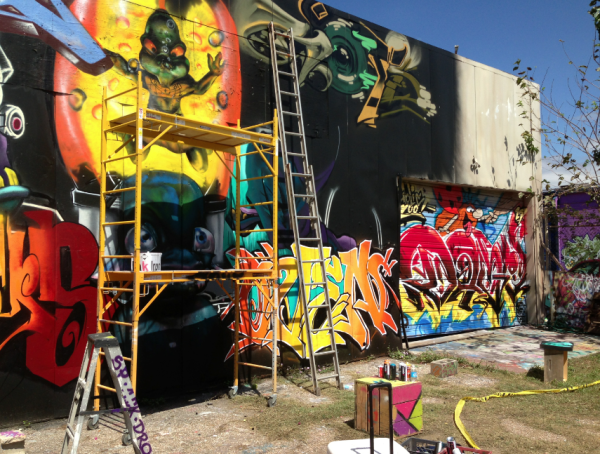 The event focused on painting with aerosol cans, and it was a splendid opportunity to witness the virtuoso technique of some masters of this specialized genre. Many of the artists had sketched out their pieces, and were busy filling in: one end of your typical mural was a ghostly skeleton of guidelines, the other end fleshed out with color, with the artist in the middle, working.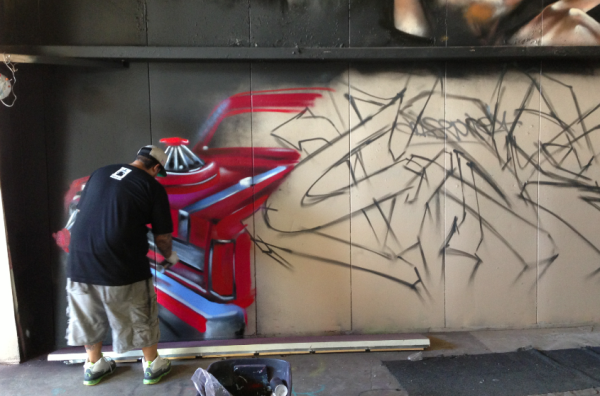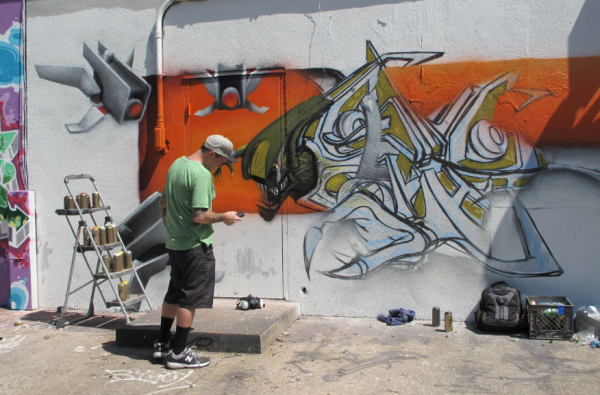 It's not your father's Krylon: high-end spray paint is now an art supply, available in a rainbow of colors and costs $5-$7 per can. Manufactured specifically for painting on walls, it doesn't drip, dries flat, and is applied through interchangeable spray heads, from ultra fat to hairline precision. It's still loaded with volatile organic compounds, though, and few artists were wearing respirators. Tsk, tsk.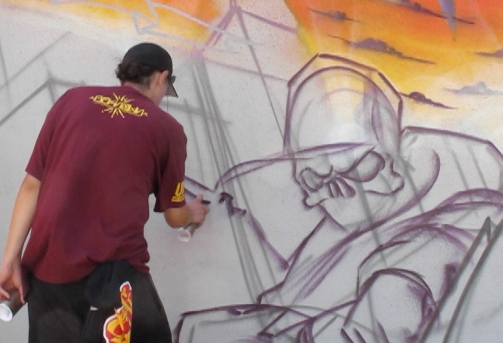 The pieces will remain all over the insides and outsides of Kingspoint, 10902 Kingspoint, Houston, until they are painted over, which could be weeks or months. Stop by or, if you've got time, sample some of Houston Media Source's rambling live coverage of the event, which included hip hop performances, some vendors, and a lot of puddles.