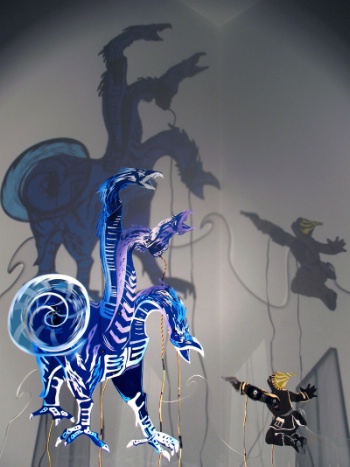 The 8th annual Media Archeology Festival is fixin' to bring three cross-genre, high-tech artworks to Houston next week. From Thursday through Saturday, the fest, co-presented by Aurora Picture Show and UH's Mitchell Center, centers this year on play- artists using the images and techniques of games as they manipulate, recycle and reinvent electronic media.
On Thursday, September 15, Polish artist Karolina Sobecka will install Sniff,  a game-engine powered electronic dog, in the shop window of Chick and Chica, at 3710 Main Street, downtown at 8pm. Using interactive electronics familiar from video game systems, the projected dog reacts with seeming intelligence to passers-by.
On Friday, September 16, Houston artist Robert Thoth, the "Chiptune Crooner" will perform synesthetic blend of music, voice and video through vintage equipment on the Menil Collection Lawn at 8pm.
On Saturday, September 17, Eddo Stern plays the part of an all-powerful wizard engaged in an epic (if virtual) with an army of rebellious minion/avatars controlled by an audience in Wizard Takes All at the Orange Show, beginning at 8pm.
And all for free!