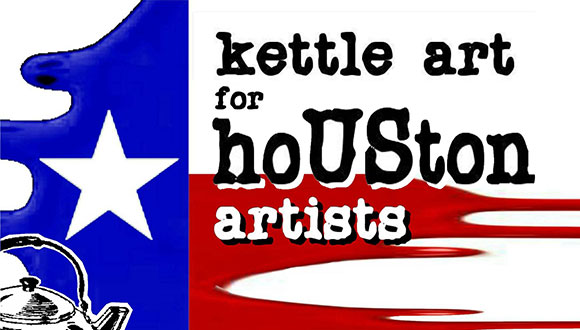 Both this and next week, artists and organizations across the state of Texas are doing their part in putting together art shows and auctions that will benefit those impacted by Hurricane Harvey. In addition to the #TexasArtistsStrong exhibition, which is organized by Houston organization Fresh Arts and will take place on Saturday, September 9th from 2-7PM at Spring Street Studios (if you want to donate to the Immediate Disaster Relief Fund for Texas Artists, go here), there are other spaces across Texas hosting fundraising events. See below for a list of some upcoming shows, and let us know in the comments if there are any that we missed. Also, please send us the event details at [email protected]
On September 9th, from 6-9PM, Kettle Art in Dallas is hosting Kettle Art for Houston Artists, a one-night fundraiser for Houston artists impacted by the storm.
This week, Civic TV Laboratories in Houston is holding an online benefit auction with the proceeds going to The Montrose Center's LGBTQ Hurricane Harvey Disaster Relief Fund. The first round of the auction closes on September 10th at 11PM.
On September 15th, from 7-10PM, Rockstar Art Gallery in Houston will host #HoustonStrong, an art show and fundraiser benefitting Houston area artists affected by Harvey. You can donate money, art supplies and pieces to the exhibition — for more details, go here.
On September 30th, from 6-9PM, Laura Rathe Fine Art on Colquitt in Houston is hosting an art auction and fundraiser with 100% of the proceeds going to Mayor Sylvester Turner and County Judge Ed Emmett's Hurricane Harvey Relief Fund. The event is spearheaded by gallerists Laura Rathe and Kathy Dimmitt, and artists Katherine Houston and Cookie Ashton.
On October 1st, from 3-11PM, Space Montrose is hosting an event at Avant Garden Houston featuring food, music, and an art market with proceeds going to those in need.