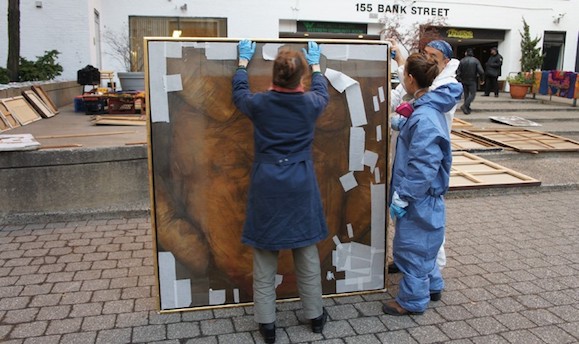 This Saturday, Sept. 23 in Houston there's a major free workshop aimed at artists, galleries, and collectors for helping them salvage water-damaged art objects following Hurricane Harvey. The four organizers are big-league: TX-CERA (Cultural Emergency Response Alliance); Harvey Arts Recovery; the Museum of Fine Arts, Houston; and the Mayor's Office of Cultural Affairs.
Via the MFAH: "Artists, galleries, and collectors are invited to come learn about resources available to help in the mitigation and recovery of flood damaged art. Attendees are encouraged to bring images of the damage they hope to address and ask the conservators for advice. No mold damaged art can be brought to the workshop due to safety concerns for the attendees, but plans can be discussed for future assistance on a case-by-case basis."
The workshop will, among other things, cover available art-conservation resources, grant and loan resources, safety while working with flood-contaminated art, and direct guidance "for salvaging and drying art, archives, and special collections after floods."
Please note there are two sessions that day: "The morning session focuses on understanding available support networks and health and safety concerns for both the art and those handling the art. The afternoon session features professional art- and library-conservation experts discussing how to stabilize damaged art."
The workshop, titled Saving What You Can: Recovery and Stabilization of Flood-Damaged Art and Collections, will take place from 9 AM – 4 PM on Saturday at the Lora Jean Kilroy Visitor and Education Center at 6003 Memorial Drive. For more info, please go here.
The workshop is free, but you can RSVP on the Facebook event page.