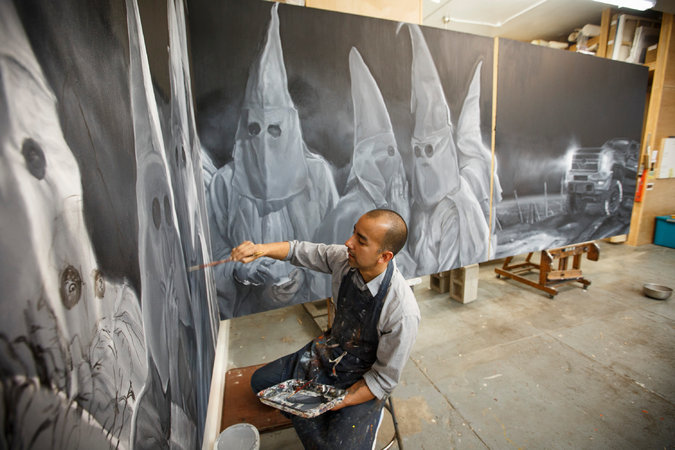 Vincent Valdez, a sharp and respected young artist from San Antonio, is currently at work on a piece that landed him in the New York Times' Sunday Review a couple of days ago. And it should have. The massive painting, still in progress, is called The City, though the Times' headline is "An All-American Family Portrait, in White," because this 30-foot-long tour de force shows an extended and rangy gathering of Ku Klux Klan members. I haven't yet seen the painting in person (it will debut this fall at David Shelton's gallery in Houston), and there's only a partial shot of it in the Times, but you can see that it's startling and larger-than-life. In Valdez's way, it pulls no punches; he has always been a politicized artist. The Times' writer, Lawrence Downes, describes The City this way:
One holds a beer, one holds a baby, one checks his iPhone. One, with a woman's hands, whispers to another. It is after dark. Dust swirls in the glowing headlights of a Chevy pickup, the main source of light other than a pinhole moon and the nighttime grid of a city in the distance. 
In other words, these are your neighbors, your relatives, your co-workers. This is the banality of evil, right under your nose, as it most often is.
Valdez started the painting back in the fall, before the white supremacy narrative fully invaded election coverage. It was only a week ago that Trump pointedly failed to denounce David Duke and his grotesque voting block, and the GOP establishment realized (and at least pretended to panic) that the party's trusty old dog whistle (the one Lee Atwater invented in the 1980s for the election of George H.W.) has been retired for good in favor of the party's followers' and candidates' outright xenophobia and racism. The Times' column's headline and this description of the painting sum up what is at least that writer's projection about this particular work of art: We are all complicit. This is a great example of the Times' time-honored op-ed hand-wringing, and in this case I'm right there with it. Living in Texas, i.e. the heart of darkness and the home base of Ted Cruz (surely the scariest likely presidential candidate I'll witness in my lifetime), I'm looking to almost every artist (and myself), for signs of kicking and screaming. Now really isn't the time to navel gaze or decorate.
Even if you're generally conservative, what is at stake in this election is the well-being and freedom of someone you love and worry about. Probably a lot of people and things you love and worry about, including things you love about this big, generous, messy, complicated state of Texas. Artists and musicians and writers and filmmakers have always been good at sounding the alarm. I'd sure like to see more of it right here at home. Why not?
Unapologetic political art (there are subtler kinds) has an excellent track record. Hogarth, Goya, Beckmann, Dix, Posada, Orozco, Picasso. Artists who saw which way the wind was blowing and shuddered, and reflected this fear and disgust right back into society's face. As the Times points out, Valdez' painting calls back to Guston's Klan figures—unpopular when they debuted and now one of the things he's most known and valued for. We can make arguments that political art is often heavy-handed and easily dated, and we'd be right. An artist can fight this problem by going with an abstracted, tasteful, ultra-dignified variety of political art: Doris Salcedo. Rachel Whiteread. But that's not going to cut through the toxic sludge that's jamming up every circuit of our lives right now. Artists would do well to tap their inner revolutionary. The darker chapters of history have a nasty habit of repeating, and disgust is forever.
Much of our population here in Texas and beyond is currently lined up in the gun sights of the calcified few. Some of the targets: seemingly all black people, all Latinos, all women, queers. Academics and educators, scientists, young singles, people who care about the welfare of the planet. Artists. People who produce culture. Why is Vincent Valdez the only Texas artist making something that's made international news?
(image of Valdez in his San Antonio studio: Michael Stravato for The New York Times)