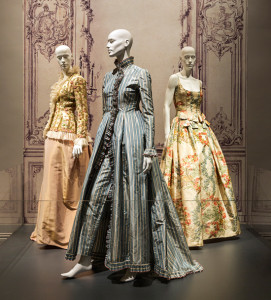 Heads up, design buffs: Oscar de la Renta, iconic fashion designer to women of means, is the subject of a thorough exhibition spanning fifty-plus years of his work at The George W. Bush Presidential Center at SMU in Dallas. The show is staged along the lines of similar recent exhibitions of major designers' careers (like McQueen and Gaultier), with mannequins posed in choice couture pieces as well as educational odds and ends that contextualize the designer's time and place in the history of fashion design.
The pics available for this show are spectacular; there is no doubt de la Renta (who is now 82) has created some masterpieces along the way. Born in the Dominican Republic and originally trained by Cristóbal Balenciaga in Spain, de la Renta became a favorite couturier to Jackie Kennedy in the 1960s and has been designing some of the most coveted red-carpet gowns for stars and first ladies ever since.
"Oscar de la Renta: Five Decades of Style" runs through October 5. Info and tickets here.
(image: George W. Bush Presidential Center)