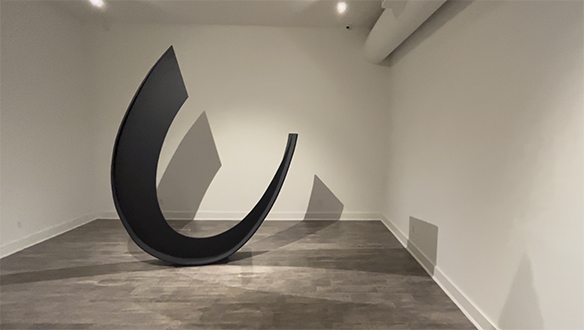 Note: the following is part of Glasstire's series of short videos, Five-Minute Tours, for which commercial galleries, museums, nonprofits and artist-run spaces across the state of Texas send us video walk-throughs of their current exhibitions. Let's get your show in front of an audience.
See other Five-Minute Tours here.
Sculpture Month at Andrew Durham Gallery, Houston. Dates: October 7 – December 2, 2023.
Featured artists: Frances Bagley, Becky Newsom, Scott Madison, Steve Murphy, Jeff Jennings and Tom Orr.
via the gallery:
"Andrew Durham Gallery is thrilled to announce its upcoming exhibition, featuring a collection of artworks by acclaimed artists Frances Bagley, Becky Newsom, Scott Madison, Steve Murphy, Jeff Jennings, and Tom Orr. The exhibition will take place during Sculpture Month Houston, beginning October 7, 2023.
The exhibition will captivate art enthusiasts and collectors alike with its diverse range of sculptures, each artist bringing their unique vision and artistic prowess to the forefront.
Frances Bagley, often works with the human form although not exclusively, the organic quality of the human figure holds her interest because of the subconscious empathy we human beings have towards a form similar to our own bodies.
Becky Newsom creates sculpted painted canvases that result in intricate and delicate works of art that capture the essence of organic forms.
Scott Madison is a sculptor who makes custom jewelry boxes, furniture, tables and lamps from various metals including aluminum, brass and stainless steel he meticulously constructs his sculptures, paying careful consideration to the texture, shape, and composition of each piece. One of the defining characteristics of Madison's work is his keen attention to detail and craftsmanship.
Steve Murphy engages the classical elements of sculpture; form, volume, surface and edge. His current body of work is the result of a continued reductive investigation of those sculptural elements.
Jeff Jennings sculptures seamlessly integrate architectural elements and geometric shapes, resulting in playful compositions that captivate the viewers' eye. Through his use of color, Jennings creates visually striking pieces that are dynamic and evoke intrigue.
Tom Orr has developed a body of sculpture work that utilizes formal traits to disrupt and create vibrant optical patterns. Experiential movement brings the nuances of the work to life utilizing reflected light, reflected color, shadows, scale, repetitive lines and Moiré patterns.
The exhibition will be open to the public from October 7, 2023 to December 2, 2023 at Andrew Durham Gallery, located at 1821 W. Alabama St, Houston, TX 77098. Visitors will have the opportunity to engage with the artists and gain insights into their creative processes during the Artist Reception on November 4, 2023 from 6 p.m. to 8 p.m."