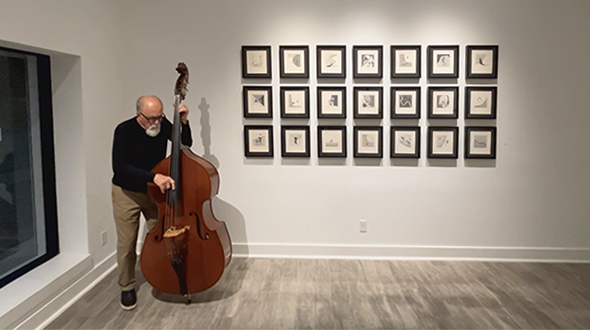 Note: the following is part of Glasstire's series of short videos, Five-Minute Tours, for which commercial galleries, museums, nonprofits and artist-run spaces across the state of Texas send us video walk-throughs of their current exhibitions. This will continue while the coronavirus situation hinders public access to exhibitions. Let's get your show in front of an audience.
See other Five-Minute Tours here.
Bob Russell at Andrew Durham Gallery, Houston. Dates: May 6 – June 30, 2023.
Via the gallery:
"Bob Russell's exhibition, a survey of work spanning from 2014 to 2023, combines three separate mediums drawing, collage, and painting. Bob is fascinated with the complex issues that make up one's everyday life, and the simple beauty one finds in nature when the time is taken to observe these things. Whether it's a daunting cloud formation before a spring storm, or an autumnal field of rust-colored grasses that line the highway blowing in the wind, the intricate patterns on the backs of dragonfly larvae, or errant marks made on freeway exits by truckers, as the tires try to stay the course. The simple dialog between man and nature in everyday life captivates and informs this work. These lines, colors and shapes that only the relationship of man and nature can provide are the bones of the work.
This work links three diverse but related forms of art making combining a series of new drawings, which relate directly to the brown paper collage work which was informed by years of exploration of satellite imagery. This simple but powerful series of drawings comes from a sense of isolation brought on over the last years during COVID and a change in the way people live and work. The paintings relate to the earth drawings and form a bridge between the collage and drawings in simple but basic symbols of marks made by man and nature on the Earth.
In his search for the beauty and symmetry in nature, and his desire to help create a dialogue that both reflects this search and highlights the relationship between these different bodies that seem to be in constant conflict and harmony.
Bob Russell was born in Meridian Mississippi and spent the next two years crisscrossing the country with his family's musical group. In 1952 the family moved to Houston where he has spent most of his life. In his early years he too was drawn to music and studied string bass. He joined Wheatfield in 1974, which became St. Elmo's Fire. He now performs with Lindale, with fellow artists Steve Murphy and Joseph Havel. He studied architecture at the University of Houston and received a B.F.A. and M.F.A. from the same institution."