This Saturday in Houston and in Austin you can catch parties celebrating the release of two Texas publications.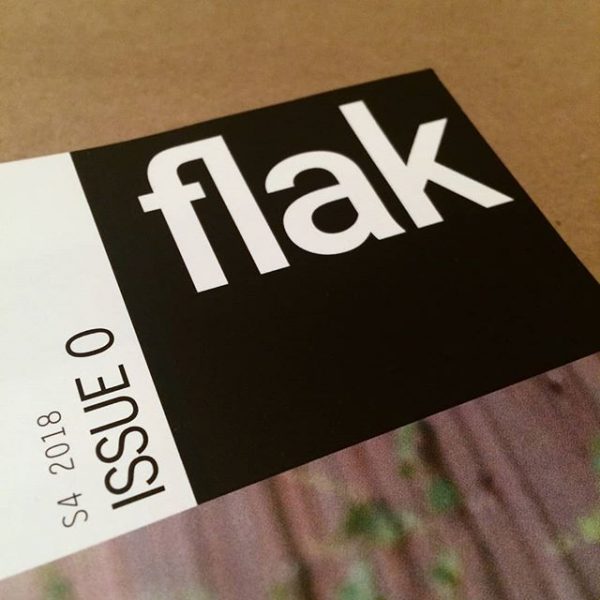 On December 8 in Houston, from 6-9PM, Flak Magazine will host its Issue 0 launch party at Space HL's (formerly galleryHOMELAND) new location. Established by three Houstonians, Michael McFadden, Paul Middendorf, and Elizabeth Rhodes, the publication aims to "give artists a platform for work that is not easily presented in galleries or institutions," and to elevate the artwork being made by Houston artists. This inaugural issue was made possible through one of Houston's Let Creativity Happen grants, and by an Indiegogo campaign initiated by Flak. The publication's Issue 0 will include projects by Cody Ledvina, Bret Shirley, S Rodriguez, and Ryan Hawk, among others.
On December 8 from  7-10PM in Austin, at 5305 Bolm Road (the former home of Big Medium and Not Gallery) is a five-year anniversary celebration and tenth issue release party for fields magazine. Dedicated to showcasing all kinds of creatives — writers, musicians, poets, painters, illustrators, and more — the print publication emphasizes the stories and works of those who are less recognized. The publication's first issue came out in the winter of 2013, and it has been intermittently releasing winter, spring, and summer editions since.
The publication, though based in Austin, does have an international scope: Its most recent issue, which came out earlier this year, featured a profile of Berlin-based artist Nathalie Anguezomo Mba Bikoro. Still, many Austinites are highlighted in the magazine's pages, like creative duo Elizabeth McDonald Schwaiger and Seth Orion Schwaiger, who also appeared in fields' ninth issue, along with Deborah Roberts, whose artwork will grace the cover of issue 10.
fields anniversary celebration and issue release party will also feature an exhibition of artworks curated by the publication's former contributor, Andie Flores. The show includes pieces by Sarah Castillo, Daniel Ramirez, Natalia Rocafuerte, Megan Solis, and Jose Villalobos. Additionally, there will be performances by Ms. Flores and by artist Rosalind Hussell, along with works by Payasa, a collaboration between Ms. Flores and Cindy Popp.