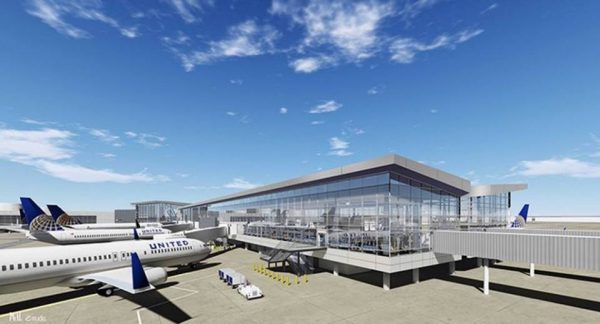 Houston's Civic Art Program and the Houston Arts Alliance recently promoted an open call for art at the new United Airlines Terminal C North at George Bush Intercontinental Airport (IAH). The total budget for all works chosen is $847,000 and comes from the city's Civic Art Ordinance, which stipulates that 1.75% of design and construction costs for qualifying projects go toward public art. This program was initially established in December of 1999, and has held on through various capital improvement plans.
Construction for the airport's new terminal, which is multiple floors and 265,000 square feet, began in May of 2015. It  opened in 2017.
IAH is looking for artworks to fill the new terminal. Open to artists living and working in the greater Houston area, the call seeks both artworks that already exist that the airport could purchase, and artworks that could be commissioned for specific locations throughout the terminal. Along with the open call, the Houston Arts Alliance released a document detailing proposed art locations within the building. The total budget for all of the terminal's acquisitions and commissions is $847,000, meaning the money will be split up for chosen projects during the selection process. The project will be overseen by the Houston Arts Alliance.
More on the open call is below. Proposals are due by January 6, 2019 at 11:59PM CST. Interested applicants are encouraged to attend an artist information session at the Houston Arts Alliance on December 8 at 11AM.
Update December 6, 2018: The HAA-United Artist information session on December 8, 2018 is now taking place in the MFAH's Brown Auditorium (1001 Bissonnet St). Two other information sessions, both hosted at HAA (3201 Allen Parkway) are scheduled for December 10 at 1PM and December 12 at 6:30PM. To register, go here.
This call is open to artists in the greater Houston area. Projects will be evaluated using four categories:
—Artistic quality: Artists or artist-led teams are of the highest artistic caliber as demonstrated by examples of past work.
—Responsiveness: The artist's submitted materials successfully demonstrate that the artist is capable of meeting the overall goals of the project, including creating an inviting space for visitors.
—Demonstrated technical abilities: Applicants demonstrate that the artist or artist-led team has the necessary capabilities to accomplish all artistic, technical, budgetary, and engineering aspects of the project and to have the project meld successfully with the surrounding space and architecture.
—Project management ability: Applicants demonstrate that they have the ability and the capacity to complete the project on a very tight schedule and within budget. Applicants exhibit their abilities to successfully collaborate with the architects and the contractor and to establish sufficient relationships with potential vendors and manufacturers.