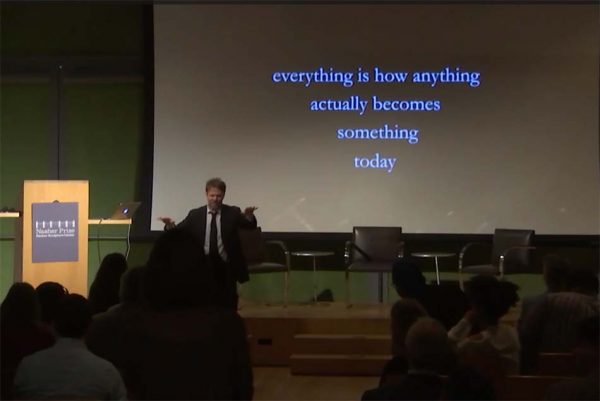 Dallas' Nasher Sculpture Center has officially announced that it is now accepting applications for its annual Nasher Prize Graduate Symposium. Open to master's and doctoral students from any discipline, the event, which is part of a larger set of programming around the institution's Nasher Prize, is scheduled for 10AM to 4PM on April 4, 2019.
Papers submitted to the event are meant to further the academic conservation about what sculpture is and how it can function in and outside of a gallery or museum. For this year's event, the museum is asking that scholars address the themes that 2019 Nasher Prize winner Isa Genzken explores in her work. Suggested topics for the 2019 Symposium are, via the Nasher:
–Sculpture, Architecture, and the Body
–The "Unskilled" Aesthetic in Post-War Art
–Genzken's Narrative Urbanism
–Historical Trauma in Post-War Sculpture
–Contemporary Realism via Sculptural Assemblage
–Art, Branding, and Identity Within Genzken's aesthetic
–Fashion, Architecture, and Sculpture in the Work of Genzken
*Preference will be given to those papers that address Genzken's work directly. Applicants who express intention to be in Dallas to present at the symposium will also be favorably considered.
Papers selected for inclusion in the program can be excerpts of MA or MFA papers or theses; excerpts from seminar papers; or excerpts from a dissertation. Being selected for the program also offers writers an opportunity to get feedback about their writing from their fellow scholars, and from the symposium's keynote speaker, Harvard University Professor of Modern & Contemporary Art, Dr. Benjamin H.D. Buchloh.
Each scholar chosen to participate in the program will have their writing published in the Nasher's 2019 Graduate Symposium Compendium.
The Nasher Prize debuted in 2015, with its inaugural winner in 2016, but it wasn't until the award's second year that the Nasher Prize Graduate Symposium was established. The first-ever symposium explored the work of Nasher Prize-winner Pierre Huyghe, and this year's symposium focused on the work of Chicago-based Prize-winner Theaster Gates. (To read the 2018 Graduate Symposium Compendium, go here. Watch the keynote below.)
Applications for the 2019 Nasher Prize Graduate Symposium are due by Sunday, December 9, 2018. For more information, and to submit, go here.