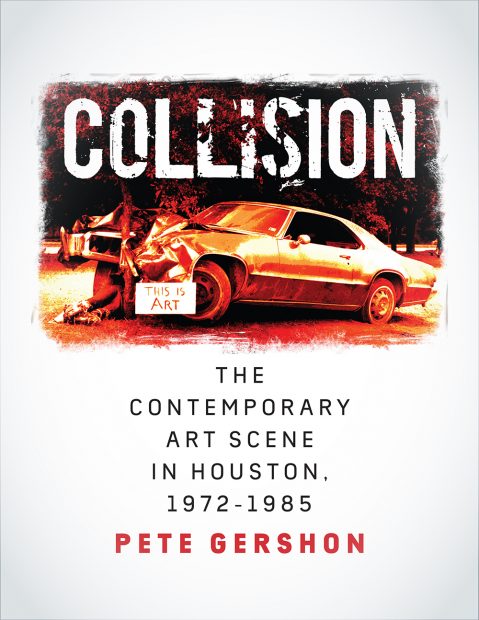 Throughout September 2018, multiple venues are hosting celebrations of Houston's art history in tandem with the release of Pete Gershon's new book, Collision: The Contemporary Art Scene in Houston, 1972-1985. Officially released on September 10th, the publication focuses on a period of time in Houston that Gershon says is its "golden era, " a time when many local artists caught the attention of the city and beyond. Between 1972-1985 was also a time when many artist-run organizations were founded, some of which are still around today, such as Lawndale Art Center (then the University of Houston's Lawndale Annex), and DiverseWorks, which was founded by a group of artists in 1982.
Accompanying Pete Gershon's new book is an exhibition he organized at the Museum of Fine Arts, Houston's newly opened Glassell School of Art. The show draws on artists featured in Collision, and specifically highlights artists who at one point served as instructors at the museum's school. Works in the show come from two collections: the museum's holdings, and the holdings of the late William J. Hill, a longtime MFAH patron and collector. The show opened on August 3rd and will be on view through November 11th.
The MFAH's Hirsch Library is also presenting a show organized by Gershon, featuring ephemera from the library's collection. On October 4th, at 7PM, Gershon will host a conversation with Terrell James, and Clint Willour about the process of researching his book, and James' history of working on the Texas Project of the Smithsonian Institution's Archives of American Art from 1979 to 1984. (Update September 19th: Gershon says that this October 4th conversation is cancelled, due to an unexpected conflict.)
Other upcoming exhibitions that celebrate Houston's art history include a show of early works by Sharon Kopriva at the Jung Center from October 2-30, and an exhibition about the history of the Lawndale Annex that's scheduled, quite appropriately, for September and October of 2019 at Splendora Gardens. (During his time teaching at the University of Houston, James Surls was the "self-appointed director" of Lawndale. Splendora Gardens was his live/work compound in Splendora, Texas, which he still owns.)
Gershon is also planning a show that pairs with his new book. The exhibition, which does not have a solid date or venue at this time, will be, per Gershon, "the definitive survey of artistic activity in Houston during its golden era, comprising paintings, sculpture, film and video, photographs, works on paper, and performance."
On September 23rd, Gershon will host a book launch event at the Glassell School of Art, and on September 30th, the MFAH will screen a series of films for the Contemporary Houston Artists film festival. See a schedule of both events below.
Sunday, September 23, 1PM: Collision book launch event, Favrot Auditorium
1–1:45: Collision presentation by Pete Gershon
2–3: Panel discussion
3–3:20: Group photo of '70s/'80s Houston artists on Glassell atrium steps by George Hixson
3:30–4:30: Book signing with writer and participating artists
Sunday, September 30, 1PM: Contemporary Houston Artists film festival, Favrot Auditorium
1–1:30: Dorothy Hood: The Color of Life (1985, 30 min.)
1:30–2: Jesse Lott: Art and Community (2017, 30 min, Cressandra Thibodeux, dir.)
2–3: Super8 home movies from the 1970s with live narration by artist Earl Staley
3–4: Jackelope (1975, 60min., Ken Harrison, director)
Pete Gershon is a Houston-based art historian, curator, and writer. He is the author of Painting the Town Orange: The Stories behind Houston's Visionary Art Environments, and currently serves as the MFAH's Core Residency Program Coordinator.