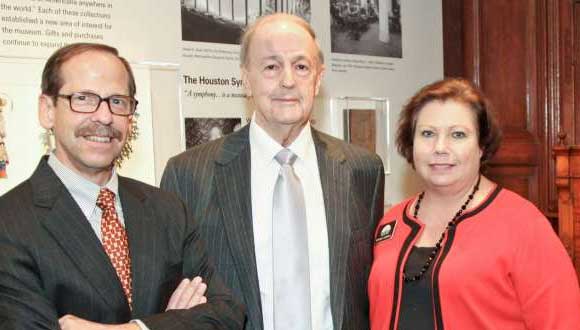 Houston collector William J. "Bill" Hill died on Tuesday, June 12, 2018 from a heart attack after a long illness. Hill was a legendary, irascible and controversial character, most likely born in the late 1930s. He was known for his deep and committed knowledge of contemporary Texas artists, and of antique Texas furniture and art. A sixth-generation Texan, Hill founded Houston Oil Producing Enterprises (HOPE) in the 1980s, after buying all of the Mecom Co.'s working interests in Texas. He also had business interests in land and cattle in Texas.
In 2016, the Museum of Fine Arts, Houston presented the exhibition A Texas Legacy: Selections from the William J. Hill Collection, which featured objects made during the Republic of Texas (1836 to 1845), including extraordinary pieces of furniture as well as pottery made by Central Texas freedmen and slaves.
Houston artist Forrest Prince said, "Bill was a blessing to me," and many local artists who were helped by Hill over the years echoed the sentiment. Hill was an artist's collector, known for his fearlessness and his keen eye. At one point in the 1990s he considered trying to purchase the Masonic Lodge building on lower Montrose in Houston and creating a museum of Texas art there, but the idea did not come to fruition. He was a major donor to the MFAH and the founder of the legendary One Great Night men's-only cigar and whiskey fundraiser. Perhaps most importanly, he founded the William J. Hill Texas Artists and Artisans Archive at the MFAH's Bayou Bend Collection. This archive has become a vital resource for research and information on early Texas art and craft.
This story is unfolding. Service details will be added when they are announced.
Update: June 2, 2018, 9PM
Via Bill Hill's obituary, published June 21, 2018 in the Houston Chronicle:
"Friends are cordially invited to a memorial service to be held at seven o'clock in the evening on Thursday, June 28, 2018, at Bayou Bend Collection and Gardens, 6003 Memorial Drive, Houston, Texas 77007. In lieu of flowers, memorial gifts may be made to Bayou Bend Collection and Gardens or the Museum of Fine Arts Houston, P.O. Box 6826, Houston, Texas 77265."