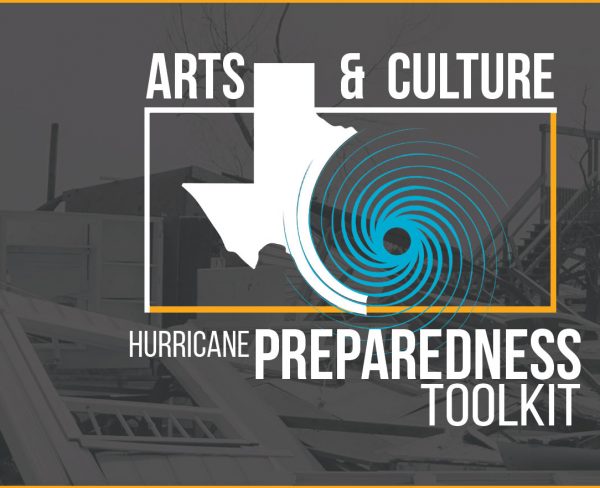 If Texas' 2017 bout with hurricanes is any indication of what we can expect in the coming years, the state will need all the help it can get to preserve and protect the families, cities, and cultural capital in the storms' paths. With this in mind, the Harvey Arts Recovery Fund (HARF), which was formed following Hurricane Harvey to help artists and the creative community with disaster relief efforts, has composed an Arts & Culture Hurricane Preparedness Toolkit for the storm season (which is June 1 through  November 30, with August and September considered the heaviest storm months).
Along with general hurricane preparedness advice, the document includes information on flood insurance, safely storing artwork, and what to do after a storm has passed. Throughout the document, HARF lists information about and contact points for a number of organizations that can help with disaster relief. (You can read Glasstire's Artists' Stories from Harvey here.)
Dwayne Jones, Executive Director of the Galveston Historical Foundation and one of the organizers of HARF, commented on the importance of this toolkit:
"If we're to reduce the level of devastation wrought on our artistic community during disasters like Hurricane Harvey, we have to equip artists and organizations with information they can use for a healthier recovery in the future. As our final project, this toolkit offers insight and a tangible resource to prepare them for problems unique to their experiences during a disaster."
Other members involved in the creation of HARF included Shannon Buggs, Chief Commons Director of CultureWorks Greater Houston; Marci Dallas, Executive Director for Fresh Arts in Houston; John Abodeely, CEO of the Houston Arts Alliance; Mollie Miller, Executive Director of Dance Source Houston; and Deborah McNulty, Director of the Mayor's Office of Cultural Affairs in Houston.
After Hurricane Harvey, HARF gave three rounds of grants to artists and organizations affected by the storm. The funds for these grants came from money raised "with the help of local nonprofits, donations through the online advocacy platform (www.harveyartsrecovery.org) and seed money from the Houston Endowment."
Go here to read and download the Arts & Culture Hurricane Preparedness Toolkit.