It is anything but hyperbole to say this is the most catastrophic flooding event in the city of Houston's history. Tropical Storm Allison, a 500-year-flood, held the title for just 16 years. – Space City Weather
A few days ago, many of us were a little disappointed with our Hurricane Harvey experience. We got bored and joked online about running low on cocktail fixings. Then the heavens opened.
[Before I go on, Texas Monthly put together a good list of things you can do to help. There will surely be more needs in the coming weeks and months, long after the show is over. We are also partnering with Fresh Arts and other local organizations to get information to artists who have been affected. We will continue to do so.]
I always say that I'd rather live with hurricanes than earthquakes, because at least you know the hurricanes are coming. But that's not entirely true: even as you watch storms menace their way across the Gulf of Mexico, you still don't really know what's going to happen. Usually not much does — they miss you or they weaken, and it all ends with a fizzle. But every so often, it's as bad as they predict or worse. The writer Peter Lucas commented to me that hurricanes are a regular reminder that we know nothing.
Of course, that nothing comes wrapped in a sense of drama and even a kind of fun. At first, a hurricane is like Christmas: you've got plenty of food and drink in the house, and you're not planning on going anywhere. You pull out decks of cards and board games and candles for when the power goes out. But you're also in an anxious state that's equal parts boredom and tension. You might just get some rain, or you might lose your house and all your possessions, and possibly even your life. You don't know.
And then the spectacle of suffering unfolds.
For everyone outside of the region, the horror show has played out on a screen. You're watching it and commenting on it on social media, and anxiously texting all of us here: are you OK? Strangely, it's the same for many of us living in the midst of it: although many people's experience of the storm has been harrowingly real, others have gone through this without losing electricity or seeing water in their homes, even though it may have come alarmingly close. The difference for us here is, we know the people in the pictures. The destroyed homes are homes we've visited in the past, belonging to people we know personally.
If you want your faith in humanity restored, watch people during a bad storm. It's trite, but we're really at our best in these situations. American civil society seems to be doing alright, and nobody here is thinking about the bullshit and the politics and the differences. Everybody is trying to lend a hand. You go out on the street and ask if people are OK. Maybe you go farther and volunteer to help people who have been evacuated, or you welcome near-strangers into your home. Everyone wants to be a good neighbor.
And so the terrible beauty of the natural disaster (and it is dreadfully, terrifyingly beautiful) is matched by the terrible beauty of the fact that, in the moment, we easily fall into the human empathy that we know we should be capable of demonstrating on a daily basis. Along with the spectacle of suffering comes the spectacle of generosity and heroism by regular people. You can't help but be inspired.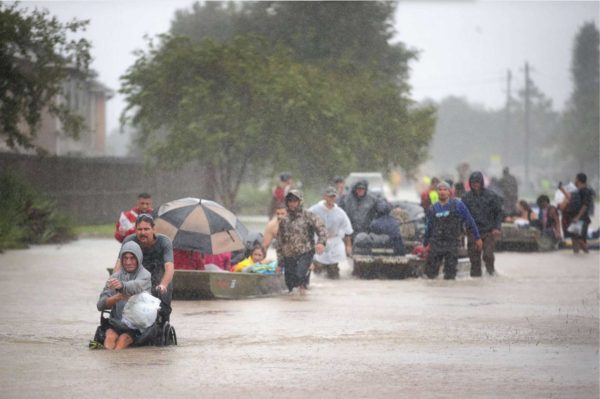 True, I've seen a few stupidly obsessive things on social media: how Texas deserves this because we are all a bunch of conservative jerks who don't believe in climate change; or arguments by armchair quarterbacks thousands of miles away about whether the city should have evacuated; or pointless, pile-on rants about how a dumb "prosperity gospel" megachurch didn't open its doors. But in the midst of the intense fugue state of the storm, I'm not remotely tempted to dig into any fruitless, upsetting online bickering. There have been far more pressing things to worry about as the horrible, all-too-specific stories have begun to emerge — friends who've lost everything, arts organizations that have been devastated — and that level of national political chatter we all swim in every day suddenly seems completely inane, one-dimensional, and (refreshingly) alien.
I'd like to hang on to this clarity — that so much of the hysterical garbage we see on the Internet is just hysterical garbage — once the waters have receded and the crisis is over. We can't hold onto the feeling of being in the midst of such a catastrophe (nor, I suppose, should we want to), but we can try to resist the suckhole of inertia on Facebook as it serves up the next doo-dad groomed by algorithms to please our personal political fancy. We can dig down for that empathy, and try to keep being a good neighbor to the people who need it. There is going to be a lot of sheetrock that needs to get ripped out. There are going to be a lot of lives that need to be rebuilt.
We've had the devil's own day in Houston. This is going to be a fight for the city and for this whole region, and the national conversation will inevitably move on from this latest natural disaster. But for those of us who live in this wild, energetic, forward-looking sprawl of a city, it's a fight worth taking on. We love this city, which, as it turns out, means we love each other.