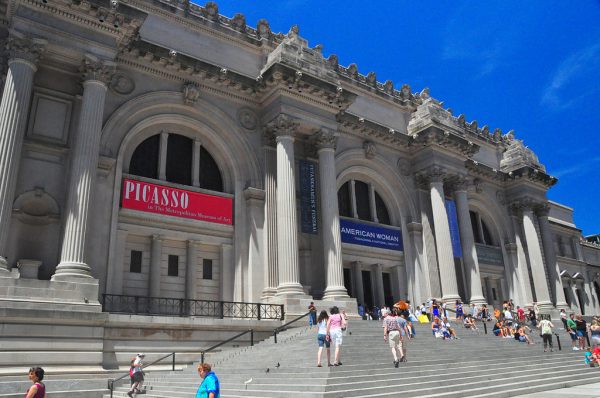 At a press conference earlier this week, the Metropolitan Museum of Art in New York announced that this spring, the institution will begin charging out-of-towners a mandatory admission fee. Set to go into effect on March 1st, the new policy is firming up the prices set by the institution's current pay-as-you-wish model: $25 for adults; $17 for seniors; $12 for students. New York State residents, students from New Jersey and Connecticut, and children under 12 will retain free admission. Along with this change, the museum is altering their ticketing policy: visitors' tickets will now be valid for three days and will still extend to the museum's three locations (Fifth Avenue, the Cloisters, and the Met Breuer).
This announcement is just the latest of many recent shake-ups for the Met: in February of last year, the museum's director, Thomas P. Campbell, stepped down as the museum was settling into a multimillion-dollar deficit; then in April, there were reports that Campbell had an "inappropriate relationship" with a female staffer. In 2016, the museum reportedly laid off 34 employees in an attempt to mitigate its growing budget deficit.
Rumors about the Met's changing admission policy began to circulate in April of last year when The New York Times reported that NYC Mayor Bill de Blasio endorsed the idea of the museum charging admission to non-New Yorkers. At the same time, the Met's president and then-acting chief executive said that the institution was "looking at everything to bridge [its] budget deficit, including the pricing structure [it has] with the city."
In their press release, the Met gave a few reasons as to why they plan to alter their pay-as-you-wish policy: visitor admissions only fund 14% of the museum's overall revenue, which they claim is low compared to their New York peers. They also say that over the past 13 years, "the number of visitors who pay the full suggested admission has declined by 73 percent," adding "we are now the only major museum in the world that relies exclusively on a pure pay-as-you-wish system or that does not receive the majority of its funding from the government."
Whether or not the Met should be free, along with the differences between if admission should be "recommended" or "suggested" has long been debated. With this recent announcement, a slew of other voices have joined the conversation, with many of them questioning how this policy will affect the city, the institution, and the people who wish to see art.
The Met currently has an operating budget of $300 million, and the institution has said it hopes to balance its budget by 2020.