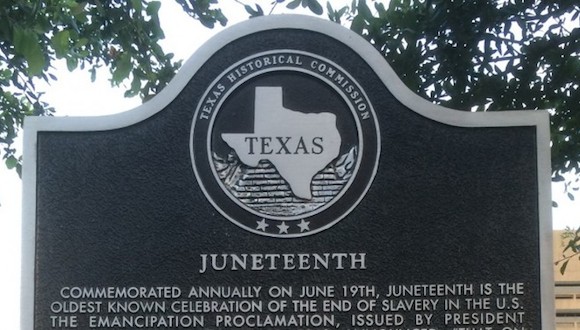 Juneteenth, also known as Freedom Day or Emancipation Day, is an annual holiday celebrated on June 19 to commemorate the end of slavery in Texas, and therefore the freeing of the last slaves in the United States. Though Abraham Lincoln's Emancipation Proclamation went into effect on January 1, 1863, it wasn't until June 19, 1865 that federal troops arrived in Galveston to enforce the freeing of the slaves in Texas. (That two-and-a-half-year gap inspired the name of Houston artist Robert Hodge's ongoing album project and his exhibition with Tierney Malone at the Galveston Arts Center.)
Below are some of the Juneteenth happenings across Texas.
GALVESTON
To kick off the weekend's festivities, catch a Juneteenth parade featuring floats, bands, and fireworks Saturday, June 17 at 7PM. Then, on June 19, the Galveston Juneteenth Coalition is hosting a litany of celebratory events, including a reading of the Emancipation Proclamation and a prayer breakfast, events in Jack Johnson Park, and a march from the Old Galveston County Courthouse to the church at 2015 Broadway Ave.
HOUSTON
Houston's Juneteenth celebration is a big one this year—Saturday, June 17, from 10am-5pm, there is a rededication of Third Ward's newly renovated Emancipation Park. Also happening at 10am is Mayor Sylvester Turner's Annual Acres Homes
Juneteenth Parade. Then, from 10am-5pm on June 19, Emancipation Park is hosting a Juneteenth Celebration.
Also on June 19 at 7pm, is A Gulf Coast Juneteenth at Miller Outdoor Theatre. The program will feature performances by Mavis Staples, Milton Hopkins & the Hit City Blues Band and J Paul Jr & the Zydeco NuBreedz.
SAN ANTONIO
From 11am to midnight Saturday, June 17, San Antonio is hosting a free celebration at Comanche Park #2. At 8pm catch a performance from R&B group The Fonics.
AUSTIN
Saturday, June 17, Austin is hosting a 2K Run/Walk at 9:30am, a Juneteenth parade at 10am and a festival from noon to 8pm.
Just outside of Austin, Round Rock is hosting its 9th annual Juneteenth Rhythm and Ribs Festival, featuring BBQ and entertainment by the Soultree Collective, Young Hub, and American Idol finalist Savion. Catch that today, June 17, from 2pm to midnight.
DALLAS
On Monday, June 19, from 2pm to 7pm, the Martin Luther King, Jr. Community Center is hosting the City of Dallas Annual Juneteenth Festival. The event will feature vendors, entertainment, food, and family activities.
For this year's Juneteenth, Dallas' Southern Pride has a pool party lined up that will run today, June 17, from 3pm to 11pm.
South of Dallas, today, June 17, the City of Lancaster is hosting a festival featuring local artists, performances, and more. The event runs from 5pm to 9pm.
WASHINGTON
Washington, Texas is celebrating Juneteenth a little after the fact: on June 24, from 10am to 4:30pm, Washington-on-the-Brazos State Park will host a Juneteenth Heritage Celebration.
Did we miss anything? List your city's Juneteenth celebration in the comments!