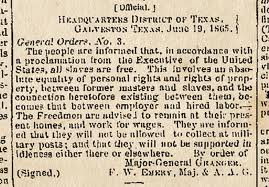 Some towns held celebrations last weekend; some are planning picnics and parades for the upcoming weekend. It is actually today, though, that is Juneteenth, the holiday that commemorates the announcement of the abolition of slavery in Texas in 1865. While the holiday was not officially recognized until 1980, Juneteenth is now celebrated in 42 states.
Galveston has a number of events planned today—all month, actually, since Galveston is where it all started when Union General Gordon Granger and 2,000 federal troops arrived to enforce the emancipation of its slaves (almost three years after Lincoln issued the Emancipation Proclamation!). There are also events all day at Houston's Emancipation Park.
Texas museumgoers have plenty of places to celebrate the day. Houston's Museum of African American Culture will host its Annual Juneteenth Walk to Freedom this evening, with a reflective walk, music and a lecture. Perhaps it's a good day to finally visit the African American Museum in Dallas (or the one in El Campo, or Emory, or Plano, or Bryan), the George Washington Carver Museum and Cultural Center in Austin, or the new Houston digs of the Buffalo Soldiers National Museum.
The Arlington Museum of Art has two exhibitions up right now Harlem Renaissance: A Celebration of Art & Culture and William H. Johnson: An American Modern, which together make up one of the largest collections of African-American art shown in North Texas. And Romare Bearden: A Black Odyssey is up at Fort Worth's Amon Carter Museum through August 11.