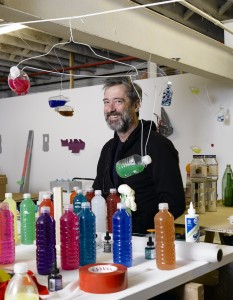 This past Friday, sculptor Tony Feher passed away at the age of 60 from cancer-related causes. Feher's work was simple in nature—he reimagined often-overlooked and discarded objects into colorful, humorous assemblages that made viewers stop and think twice about what they were seeing.
Feher was born in Albuquerque, New Mexico in 1956 and was raised in Corpus Christi, Philadelphia, Washington DC, and Florida. He received his BA in 1978 from the University of Texas in Austin and then moved to New York. Since then, he has shown at many venues and institutions, including Sikkema Jenkins & Co., Pace Gallery, ACME, and the Akron Art Museum, among others.
Over the past few years, Feher has had a strong presence in the Texas art scene. In 2012, Houston's Blaffer Art Museum re-opened its doors with a retrospective looking at Feher's 20-year career, and Artpace hosted a show of his sculptures and tape drawings. In 2013, Diverseworks commissioned the unforgettable exhibition Free Fall, which consisted of numerous water bottles hung from the ceiling of the gallery to create an immersive playground-like installation that housed performances for the run of the show. Additionally, Feher is represented by and has had many shows at Hiram Butler Gallery in Houston.