It was recently announced that the ever-growing Houston suburb of Sugar Land has installed two sculptures in the city's Town Square public plaza. The new artistic additions, however, are a far cry from the heroic, larger than life monument dedicated to Stephen F. Austin that already calls the plaza home. 
One of the cast bronze statues, the lesser of the two evils, sits on the ledge of the square's fountain and depicts a man playing a guitar. The other statue shows two girls taking a selfie. A press release states that both of the works "show activities common in the plaza." Additionally, the City of Sugar Land had this to say:
The inclusion of sculpture in the Town Square plaza aligns with the continued vision of the City and the Legacy Foundation's commitment to establish cultural arts amenities that "provide and/or support activities and facilities that enrich the artistic, cultural, educational, and historical character of Sugar Land."
The two sculptures installed in Town Square are part of a ten piece collection donated to the city by Sugar Land resident Sandy Levin. Two more statues from Levin's collection (both depicting alligators) were installed in Sugar Land Memorial Park.
Residents of Sugar Land have already taken to social media to express their displeasure with the new works on view (and, of course, the city responded on their official twitter account):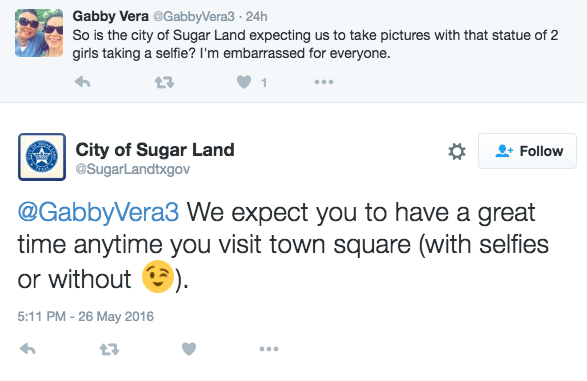 Readers: what are your thoughts on the statue?