Remembering one day in Houston 30 years ago.
1986 marked the 150th anniversaries of both the city of Houston and the state of Texas, as well as the 25th anniversary of NASA. That anniversary year began with devastating blows. In January, after years of steady decline in Houston's oil and gas economy, the price of oil plummeted into a steep tailspin. The same month, NASA's Space Shuttle Challenger exploded soon after launch, violently ending the lives of its crew and bringing the space program to an abrupt halt. And there really could have been no bigger signals of major transition for the city's identity than these extremes in oil and space. The "Houston Proud" slogan, meant to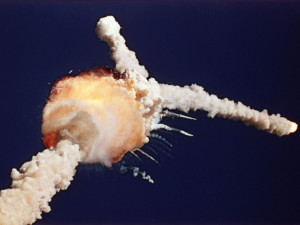 boost citizen morale and tourism, suddenly seemed like silly, desperate posturing. But in the throes of local and national culture clashes, urban frictions, economic crunches, and collective identity crises, many people here were indeed proud to be in and of a unique metropolis whose shifts were creating a new habitat for art and culture. In essence, we did what we do after a big hurricane: those that remained hit the streets and danced.
Among the national news stories covering Houston's gutted economy at the bottom of the oil bust, a 1986 New York Times article observed: "For all its troubles, perhaps because of them, Houston seems a more human place." A Washington Post article in the same year profiled Houston's cultural progression, hailing it as a "boom town of the arts." Kathy Whitmire, a young Democrat and Houston's first female mayor, carried the city's politics away from the old boy's club and toward diversity. Whitmire, who was mayor between '82 and '91 (and who also served as chairwoman of the U.S. Conference of Mayors committee on arts, culture, and recreation) proclaimed, "Art matters. Even in these times of difficult economics, you won't see a reduction in our commitment to the arts."
Developments during that era—from street-level counter culture and small, artist-run collaboratives to the evolution of major art institutions—came to define much of Houston's arts landscape for decades to come. Peter Marzio, as director of the Museum of Fine Arts Houston, brought the museum out of debt and made bold purchases of artworks and land for expansion. The grandest of Dominique de Menil's gifts to the city, the Menil Collection, was completed and opened to the public. The Contemporary Arts Museum Houston mounted impressive shows by Bill Viola, Frank Stella, and Ida Applebroog. The Blaffer came into its own. A shopping center on Colquitt Street was given a new slanted façade and became a thriving gallery row. The Orange Show was restored and reopened to the public as a non-profit art space. FotoFest presented its first biennial of photography in 1986, with 64 exhibits in spaces around the city.
The ambitious and young artist-run organization DiverseWorks was a central catalyst for the city's increasing creative intersections at the time, forging collaborations between artists and organizations, bringing a diversity of perspectives to light, and championing interdisciplinary and site-specific art. In 1986, DiverseWorks investigated the city as subject with its collaborative Fourth Ward exhibition and program series exploring historic Freedman's Town, and activated the city as art space by commissioning a number of local artists to make works for public spaces including Paul Kittelson's large Stegosaurus made of couch cushions, which lived under the Highway 59 overpass at Montrose Boulevard for nine months. It was also heavily involved in that year's Houston hosting of New Music America, a national festival that brought art events to unexpected public spaces, including the Astrodome, the downtown tunnel system, churches, hotels, and bank lobbies.
My personal perspective in that vital time and place was that of a young citizen who just happened to be growing up in the middle of it. As a kid living in Montrose, I witnessed the sparks and felt the energy, but had no real understanding of the city's changing dynamics nor awareness of just how unique and important this bold, diverse, and very public creative collage really was. I was old enough to be interested and engaged, but too young to draw distinctions between high and low culture, "art" or not. As far as I was concerned, everything around me—from museum masterworks to metalyard trash, grand architecture to vine-covered shacks, punk bands to performance art—was all equally interesting as part of the living and ever-changing environment of a city with no clear rules and no central ideology.
When I think back to Houston in that era, I often think of one Saturday in particular, 30 years ago: April 5, 1986. That sunny morning, I shuffled into a unique, new public art space in my neighborhood. It was the opening day of the Museum of Fine Arts Houston's new sculpture garden—an acre of sloping concrete walls, half-hills, trees, and walkways designed by sculptor Isamu Noguchi to frame sculptural works by Matisse, Rodin, Miró, Picasso, di Suvero, and others. A free outdoor museum as park and playground seemed like a pretty cool idea to me. I helped myself to the free champagne and berries. A pleasant older guy in blue jeans (John Cage) said a few words, and then some unusual musical plunks and clamor began (it was the world premiere of Cage's Ryoanji composition, presented by New Music America). The de-centered score for the event seemed akin to the overlapping natural and industrial environmental sounds of Houston. Now I think back on it as a sonic manifestation of a creative conversation between all of the various art works and people—not only those gathered in the new garden, but connected at the intersection of the past (MFAH), future (Glassell School), and present (CAMH) at Montrose and Bissonnet.
I walked down the block and planted myself in the grass at the edge of Bell Park in time to catch a little parade proceeding down Montrose. At the front, a guy was jumping around directing a ragtag marching band (New York experimental musician and composer Tom Cora leading Houston's Rice Mob). The following procession included artist-altered vehicles (including Jackie Harris' now-legendary Fruitmobile, Paul Kittelson's corrugated metal Cam Can, created for the Contemporary Arts Museum, and Ellen Zweig's horse-drawn carriage converted into a camera obscura), as well as bellydancers, a rock band (the Footnotes), and a relaxed swarm of wheeled Urban Animals rolling around and through everything. This funky public celebration of nothing in particular was organized by Houston artists Rachel Hecker and Trish Herrera as the opening event for New Music America, and was the original inspiration for Houston's annual Art Car Parade. (According to Herrera, John Cage and Isamu Noguchi saw the parade and loved it.) There were more people in the parade than on the sidelines, and as the procession ended near the sculpture garden, things devolved into a loose block party for a while. I went into the CAMH to use the restroom, and took my time in the cool air conditioning to look at the artwork on display (recent Rauschenbergs) before returning to the festivities.
That evening, I grabbed a portable radio and went down to Allen Parkway to view some sort of large-scale spectacle that was being staged by the Houston Festival as a Sesquicentennial celebration for the city. I didn't know of the French electronic musician (Jean Michel Jarre) who was at the center of the event, nor did I know what to expect besides probably fireworks—I don't think anyone did. We just knew that it was to encompass the whole west side of the downtown skyline and that its musical score was to be simulcast on pop radio station 93Q. I was glad that it didn't rain that night, as was forecast. As the sun went down, a bigger and bigger crowd amassed around us in the dark, filling all the surrounding streets. People were hanging from signs and overpasses. Freeways in the distance looked packed. (In fact, traffic was at such a standstill that people on I-45 just turned up their radios and got out of their cars.)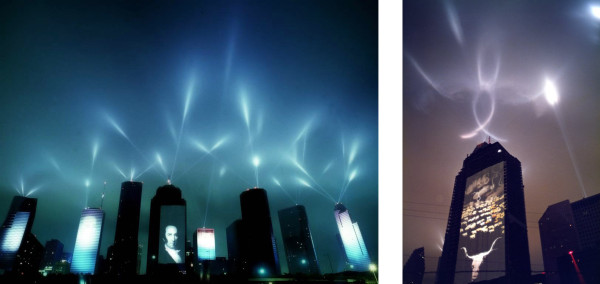 Suddenly, a hush came over the crowd as the radio signal went silent and multiple helicopters flew slowly overhead toward the skyline—their fluttering sounds creating a sea of droning in the air and their lights creating long beams in the thick hanging fog of the humid evening. (Much later, I learned that this absolutely perfect, cinematic opening was not a planned synchronized movement but rather just the various news helicopters moving cautiously into position to get a good shot of the show.) Numbers projected on a huge canvas covering the unfinished Heritage Plaza tower counted down, as spotlights rose from the tops of eight skyscrapers and layers of low synthesizer drones, distant screeching sounds, and percussive blasts rose from the "surround sound" of a million radios. What followed was an audiovisual orchestration of searchlights, controlled fireworks blasts from rooftops, images and graphics projected onto buildings, colored light fields and flying lasers accompanied by instrumental electronic music resembling a science-fiction movie score—from ambient sound textures and ominous synth-symphonic interludes to ecstatic, arpeggioed rhythms and what I imagined could be future-pop. Sam Houston's large projected face within this kinetic spectacle struck me as signaling an immediate leap in time, as if all remnants of the past were suddenly pushed backwards and forwards, repurposed as ancient cues out of context in a new, modern futurescape. A massive sea of young voices (The Singing Boys of Houston and HSPVA choirs) sang rising and falling sequences that conjured an operatic navigation of conflicting mythologies. A slow song composed to the rhythm of a single beating heart (originally planned to incorporate a sax played from space by Challenger astronaut Ron McNair) was a reflective tribute to the astronauts lost in the shuttle disaster a few months earlier, with noted Houston jazz musician Kirk Whalum improvising atop scaffolding many stories above a main stage.

Rendezvous Houston is easily overlooked or dismissed these days because of its dated style, all-over-the-place content, the impossibility of its being decently documented, and the near impossibly of anyone who wasn't in attendance appreciating the scale of this massive multimedia experience. But even if only for its ambition and specific timing, this huge, public art experiment was remarkable, and couldn't be attempted today. It held a world record with an estimated 1.5 million people in attendance. Let that sink in: 1.5 million citizens, drawn to the city's center, all together in the dark, focused on the skyline as audiovisual experience, surrounded by countless speakers and no words.
April 5, 1986 (and the surrounding few years) left a collage of strong impressions that formed my young vision of the future and a new kind of public experience. A constructed nature of half hills and sculptures. A gang of roller skaters whirling past a smiling John Cage. A cigarette dangling out of a Fruitmobile. People climbing signs. Projected images on skyscrapers. Intersecting searchlight beams. A heart beating through thousands of speakers. A city repurposed as sensorial playground. Certainly not a utopia, but a damned interesting city… and one that seemed predicated on a mix of bold ambition and wild abandon particular to Houston and its inhabitants at the time.